Telkom CEO Maseko Appears in Court on Car-Fraud Allegations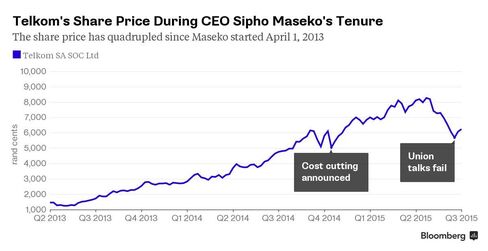 Telkom SA SOC Ltd. Chief Executive Officer Sipho Maseko appeared in a Johannesburg court on Friday after being summoned to respond to allegations of traffic-regulation fraud.
Police started investigating Maseko last July after he was accused of cloning car license plates to avoid traffic fines. Mabena Motshoane, who had bought a black Range Rover previously owned by Maseko, received about 30,000 rand ($2,448) in penalties linked to a newer model vehicle with the same license plate, he said at the time.
Maseko "appeared at the Wynberg Magistrate Court today for fraud," South African Police Service spokesman Lieutenant Colonel Lungelo Dlamini said by e-mail, without giving further details of the case.
"The three charges all relate to allegations regarding a previous motor-vehicle license plate and include one of fraud and two related to the Road Traffic Act," Telkom spokeswoman Jacqui O'Sullivan said by e-mail. Maseko didn't return a phone call seeking comment.
Maseko, a qualified lawyer, has been CEO of Telkom, South Africa's biggest landline phone company, since April 2013. He was previously chief operating officer of wireless operator Vodacom Group Ltd. and CEO of oil and gas company BP Plc in southern Africa. Pretoria-based Telkom is about 40 percent owned by the South African government.
Court Summons
Telkom shares have quadrupled under Maseko's leadership as the company cut costs and boosted revenue after a decline in landline use hurt the business. The operator returned to profit for the first time in three years in fiscal 2014, and said last month it will pay its first dividend since 2011.
Maseko approached the court in May and received a summons to appear in court on June 5, Telkom said in the statement. That was delayed until today and the matter has been postponed until Sept. 4, the company said.
"Mr. Maseko vehemently denies any intention to defraud any person or organization and the necessary representations will be made to progress this matter," Telkom said. "Mr Maseko would like to address these claims and he now has the opportunity to do so, through the legal process."
The stock fell 3 percent to 60.57 rand at 3:22 p.m. in Johannesburg, valuing the company at 32 billion rand.
Before it's here, it's on the Bloomberg Terminal.
LEARN MORE