Rajoy Cuts Taxes in Bid to Contain Insurgents in His Own Party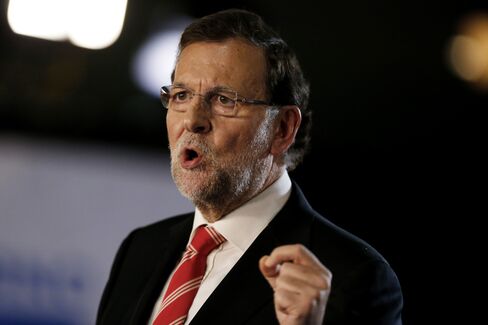 Spanish Prime Minister Mariano Rajoy is cutting income tax as he battles to keep discipline in his People's Party after it scored its worst results in local elections in 25 years.
Rajoy said Thursday he's returning 1.5 billion euros ($1.7 billion) to taxpayers from July 1 as his government brings forward a measure planned for January. The announcement came after former PP Prime Minister Jose Maria Aznar demanded "vigorous rectification" from Rajoy on taxes after the government raised the levies in 2012 in a bid to avert a sovereign bailout -- in violation of an election promise.
Pressure on Rajoy is growing after the May 24 ballot, with further electoral tests in September in Catalonia where the regional president plans to use the ballot as a de-facto referendum on independence, and general elections around the end of the year.
"The tax issue is a key one for the PP electoral base," said Antonio Barroso, a London-based analyst at Teneo Intelligence. "Aznar represents a segment of the party supporters and militants that have been particularly angry with the tax increases."
Rajoy is scheduled to make a speech Sunday in Guadarrama, near Madrid, at an event organized by a foundation led by Aznar, who appointed Rajoy as his successor to lead the party in 2003. Since 2012, they have clashed on policy and party leadership.
Support Falls
The premier's PP got 27 percent of the vote in the city hall elections, the lowest share since 1991. While the PP won a plurality in cities such as Madrid or Valencia, it lost control of their administrations as left parties agreed coalitions.
The PP would currently get about 30 percent of the vote, compared with about 26 percent for the Socialists, about 15 percent for anti-austerity Podemos, and about 12 percent for pro-market Ciudadanos, said Narciso Michavila, chairman of pollster GAD3. Even as the PP has regained ground in the last month, an alliance with Ciudadanos wouldn't be enough for Rajoy to retain power, said Michavila, who has the PP among his firm's clients.
"If it's true that you won the war against the crisis you have to show that with measures to benefit those from whom you demanded an effort," said Michavila.
Along with the tax rebate, Rajoy raised the government's growth forecast for 2015 to 3.3 percent and to 3 percent for 2016. He'd previously projected 2.9 percent for both years.
Before it's here, it's on the Bloomberg Terminal.
LEARN MORE