Mandela, Zuma Heirs Face Fraud Inquiry by South African Police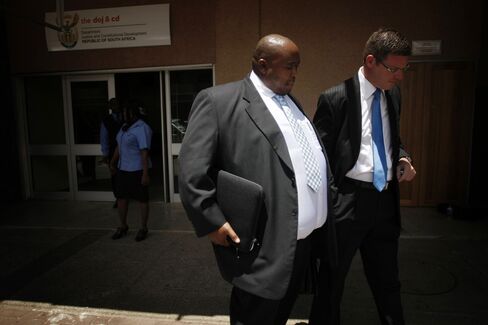 South African police opened a fraud case against a nephew of President Jacob Zuma, a grandson of Nelson Mandela and three others after a court held them liable for the destruction of gold-mining assets near Johannesburg.
An investigative unit of the South African Police Service for priority crimes, known as the Hawks, will be gathering evidence and study a civil judgment delivered by the High Court that held the directors of Aurora Empowerment Systems including Khulubuse Zuma and Zondwa Mandela personally liable for the company's failure, police spokesman Hangwani Mulaudzi said by phone Friday.
"Our interest is to protect the interest of the people" affected by Aurora's failure, Mulaudzi said.
Mandela and three colleagues -- Thulani Ngubane, Solly Bhana and Fazel Bhana -- misrepresented Aurora's ability to pay for the Pamodzi Gold Ltd. mines in 2009 when its previous owner was placed under provisional liquidation, the court said in its judgment. It also blamed the men for overseeing the decay of assets and the loss of 5,000 jobs. Zuma, while not involved in the bid process, showed "reckless disregard" for his role as Aurora's chairman, Judge Eberhard Bertelsmann ruled. The liquidators estimated the damages at about 1.7 billion rand ($138 million), court documents show.
Lawyers for Ngubane, Mandela and the Bhanas have approached the Solidarity union to discuss a possible settlement on unpaid salaries, Gideon du Plessis, general secretary at the labor organization that represents 164 of the company's 5,300 employees, said in an e-mailed statement.
Salary payouts will be capped at 28,000 rand per worker under liquidation regulations, Du Plessis said.
The approach to Solidarity wasn't an admission of liability, David Swartz, a lawyer for the four directors, said by phone. The directors will "start negotiations to purchase the claims" as "a gesture of good faith," Swartz said.
"Good luck to them," Swartz said about the police inquiry, declining to comment further.
Before it's here, it's on the Bloomberg Terminal.
LEARN MORE