Greek ETF Gets Starring Role in Week-Long Drama as Volume Surges
For Greek stock speculators, a three-year-old exchange-traded fund listed in the U.S. was about the only game in town this week.
The Global X FTSE Greece 20 ETF traded a record 15.9 million shares over four days, plunging 19 percent on Monday and regaining about half of the losses from Tuesday through Thursday. A similar fund with listings in Europe was suspended all week, making the U.S. version the only way to bet on Greek equities after regulators closed the Athens Stock Exchange.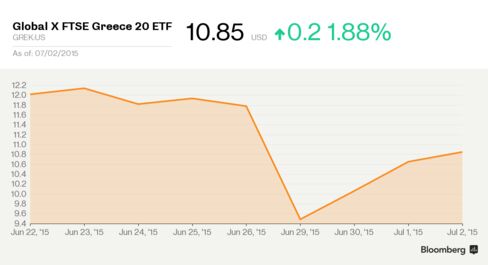 With few of its underlying stocks trading, the ETF was transformed from its normal function of tracking Greek shares into a more speculative role for traders trying to predict where prices will end up. The fund worked as it should have: bears were able to hedge, while the bulls could go long, said WallachBeth Capital LLC's Eric Mustin.
"Given that Greece itself is closed, it's a positive for the market that there's still some avenues available," Mustin said. "There's a variety of opinions out there, there's no real consensus on where the Athens Stock Exchange is going to open. Clients who have international focus or emerging market focus have looked at GREK to express their opinion."
GREK is the ticker symbol for the U.S. ETF.
Surprise Vote
Prime Minister Alexis Tsipras surprised the world last weekend with a referendum on creditors' demands. Banks and exchange shut until July 6 and capital controls were enacted to shore up the financial system.
About 4 million shares of the ETF changed hands on average each day this week, including almost 6.3 million on Monday, compared with 1.2 million in the month before that.
A daily mean of 28,400 options on the fund traded in the week, also a record. Americans are the biggest foreign holders of the Greek stock market, whose value is about the size of ship operator Carnival Corp.
As Greek talks intensified, the ETF became increasingly popular. Investors have added $281 million to the fund this year, including $3.2 million on Monday. Its market value reached a record $367 million last week.
Traders also used American depositary receipts of National Bank of Greece SA to place their views. They fell 12 percent in four days.
The U.S. market is closed for a holiday on Friday.
Sunday Decision
Everybody is waiting to see what the Greeks will decide on Sunday. Tsipras is calling for a rejection of creditors' demands, and polls suggest it's too close to call. Finance minister Yanis Varoufakis said he'll quit if voters don't back him.
Benedict Goette, founder of asset-management firm Compass Capital AG in Zurich, expects volatility to persist, whatever the outcome of the referendum.
Prices of options hedging against swings in the ETF in the next month are near the record reached on Monday. They're seven times more expensive than those on a fund tracking the Standard & Poor's 500 Index.
"There isn't a clearly visible path of how this could become one big unified quick solution," Goette said. "You would need a dramatic shift in all sorts of political stances. The market could be disappointed soon again."
For more, read this QuickTake: Exchange-Traded Funds
Before it's here, it's on the Bloomberg Terminal.
LEARN MORE