Greece Lampooned by German Media as Voters Split on Euro Future
The gloves are off in German media coverage of Greece's spiraling debt crisis as the war of words between Europe's renegade and its biggest stalwart escalates in the countdown to Sunday's referendum.
Handelsblatt, a business and finance newspaper, transposed an image of Greek Prime Minister Alexis Tsipras holding a pistol to his head on its front page on Friday with the headline "Hand over the money or I'll shoot."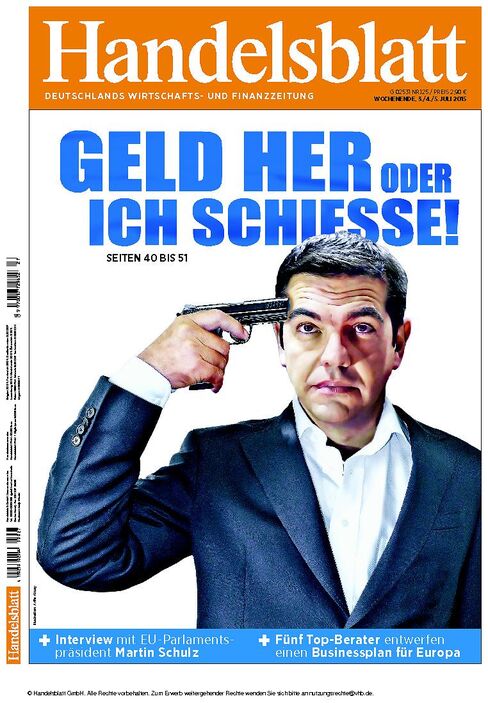 Inside, it carried a 12-page spread on Greece and Europe, attesting that the Greek government is blackmailing its European Union partners with demands for debt relief and Tsipras's decision to call the July 5 vote.
Public broadcaster ARD, in its Morgenmagazin breakfast show, lampooned the tit-for-tat battle that has ensued between German Finance Minister Wolfgang Schaeuble and Greek counterpart Yanis Varoufakis, 54, in a video clip based on the 2011 French film The Intouchables, depicting the unlikely friendship between a wealthy quadriplegic and his African carer. Schaeuble, 72, has been confined to a wheelchair since he was shot by a deranged man in 1990.
Germany's mainstream media is turning to satire as a poll showed Germans blame the Greek government for escalating the crisis that has catapulted the Mediterranean country to the brink of default and a potential collapse of its banking system, putting the future of the euro at risk.
Sixty-eight percent of 1,001 people surveyed in an ARD-DeutschlandTrend poll conducted by Infratest Dimap on June 29 and June 30 held the Greek government responsible, while 4 percent blamed the European Union. Both sides are to blame, according to 24 percent of those surveyed.
Tsipras Demands
Schaeuble's refusal to give in to Tsipras's demands spurred the minister to his highest ever approval rating in the poll by the German public broadcaster as 70 percent said they were satisfied with his work. That put Schaeuble ahead of Chancellor Angela Merkel, who scored 67 percent. Foreign Minister Frank-Walter Steinmeier topped the ranking with 73 percent.
Schaeuble has been the German government's fiercest critic of Greece's unwillingness to reform and fulfill its debt obligations. Greece has provided "no basis for talking about any serious measures" to break the deadlock, he said on July 1 after the country failed to make a June 30 payment to the International Monetary Fund.
Varoufakis vowed to quit if Greek voters don't support the government in Sunday's plebiscite. With banks shut and the economy hobbled by capital controls, Varoufakis said in a Bloomberg Television interview in Athens that he would "rather cut my arm off" than sign a deal that fails to restructure Greece's debt.
Germans are split on whether Greece should remain in the euro. In the ARD poll, 45 percent said they want Greece to stay in the euro, the same number as said the country should leave. That compares with 51 percent in favor of Greece staying and 41 percent against in a February survey.
Read this next:
Before it's here, it's on the Bloomberg Terminal.
LEARN MORE