French Politicians Rush to Defend Threatened TV Satire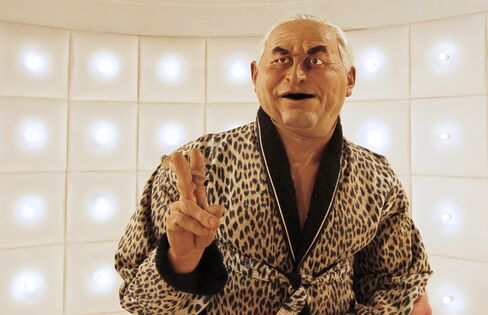 French politicians are lining up to defend a satirical TV show that has ridiculed and insulted them for three decades.
Reports that Vivendi SA's Canal Plus plans to cancel "Les Guignols de l'Info," a nightly show presented by puppets that mocks the news of the day, had politicians and newspapers of all stripes leaping to its defense.
"Caricature is part of our heritage," President Francois Hollande said during a visit to Angola, according to Agence France-Presse, while Prime Minister Manuel Valls, portrayed on the show as humorless and authoritarian, said "We need impertinence, even when it's at our expense."
"I like to see myself on Les Guignols. We need them," former Prime Minister Alain Juppe wrote on Twitter, even posting an image of his haughty-looking Les Guignols puppet to replace his profile mugshot.
Billionaire businessman Vincent Bollore, the Vivendi SA chairman pilloried by Les Guignols in 2012 for lending his yacht to then-President Nicolas Sarkozy, wants Canal Plus to cancel the show, according to reports in the French press this week. Vivendi didn't return phone calls seeking comment. Canal Plus referred enquiries to Vivendi.
Les Guignols de l'Info, named after an 18th century French puppet, first aired on Canal Plus in August 1988 and by 2012 was attracting an average 2.4 million viewers a show, according to the company's annual report.
Chirac Victory
Jacques Chirac's victory in France's 1995 presidential elections has even been attributed to his bumbling puppet, which endeared him to many voters.
Others haven't been as fortunate. Former President Nicolas Sarkozy is shown as twitchy and feisty, current President Francois Hollande is bumbling and clueless, and former IMF director Dominique Strauss-Kahn, after his repeated sex scandals, is systematically shown emerging from a shower wearing a leopard-print bathrobe exposing his belly.
Pierre Lescure, who ran Canal Plus from 1994 to 2002, quit as a board member of Bollore's Havas SA advertising company Thursday, telling business daily Les Echos that his decision was linked to the reports of Les Guignols' cancellation.
Both left-wing newspaper Liberation and conservative daily Le Figaro carried opinion pieces Friday defending Les Guignols. A Facebook petition to keep the show going had more than 25,000 signatures by midday Friday.
Delphine Ernotte, who will take over as head of state-owned France Television in August, wrote on her Twitter account that she'd welcome Les Guignols.
Spitting Image, the British show that inspired Les Guignols, lasted only 12 years. It began in 1984 and ITV canceled it in 1996 when viewership dropped.
Read this next:
Before it's here, it's on the Bloomberg Terminal.
LEARN MORE