Euro Area Said to Weigh Push for Aid Deal Even If Greeks Vote No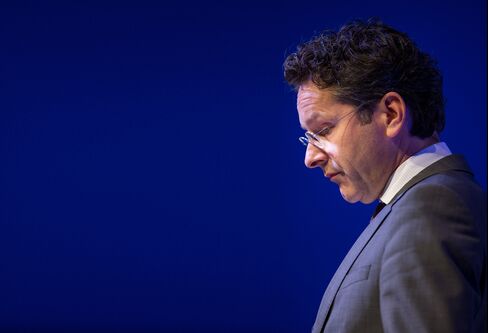 Euro-area finance ministers may be ready to start work on a third bailout agreement for Greece after Sunday's referendum, even if voters reject the bloc's last aid proposal, according to two officials familiar with negotiations.
A broad majority of finance chiefs have agreed to examine an official request from Greek Prime Minister Alexis Tsipras for aid from the European Stability Mechanism, the people said, asking not to be identified because the talks are confidential. That process could begin as soon as next week, one of them said.
Officials on both sides of the negotiations are preparing to accelerate efforts to release aid for Greece irrespective of whether voters reject creditors' aid terms in the referendum or inflict a defeat on the Tsipras government by delivering a "yes" vote. With the banking system on lock down to shield it from deposit outflows ahead of the ballot, polls suggest the result is too close to call.
The Eurogroup is waiting for the outcome of the referendum, a spokesman for Jeroen Dijsselbloem, the Dutch finance chief who leads meetings of euro-area ministers, said in a text message.
While European leaders have framed the referendum as a vote on Greece's future in the euro, the cost of a Greek exit may ultimately be greater than the bill for keeping the country in the currency. Finance ministers are no longer contemplating a Greek exit, said one of the officials.
Referendum Wait
"We're waiting for the referendum result," German Finance Ministry spokesman Martin Jaeger told reporters in Berlin. "An ESM program would depend on a request from the Greek government." Activating the ESM "is not a straightforward process," he said.
The quickest way to release aid for Greece may be to hand over 3.3 billion euros ($3.7 billion) in profit that the European Central Bank made buying Greek debt during an earlier phase of the crisis. Finance ministers and some national parliaments would need to approve such a payment, which would likely be part of a broader third bailout deal.
Greek Finance Minister Yanis Varoufakis said Friday he expects a deal to be done even if voters reject the euro area's latest offer. Finance ministers discussed the request for a third bailout during a conference call on July 1.
One of the officials said that Dijsselbloem intends to ask Greece's creditors to make a swift assessment of any new proposals to speed up a disbursement.
"We will come back to your request for financial stability support from the ESM only after and on the basis of the outcome of the referendum," Dijsselbloem wrote in a July 1 letter to Tsipras.
Before it's here, it's on the Bloomberg Terminal.
LEARN MORE