Chile's Soccer Voice Ready to Finally Tell Nation It's a Winner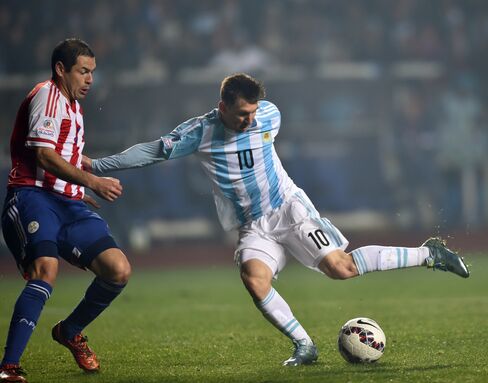 For 20 years, millions of Chileans have been listening to the machine-gun voiced commentary of Ernesto Diaz Correa describing national team soccer games. Until now, they haven't heard him say the words: Chile are champions.
On Saturday, Correa will don a shirt in the red of Chile's strip and head to the Estadio Nacional in Santiago, where he will report on the final of the 12-nation Copa America. It's a chance for South America's wealthiest nation to win the sport's oldest regional competition and end a 120-year losing streak.
The likelihood of Correa, 51, sharing the good news with his listeners on Radio Cooperativa, took a dive Tuesday when Argentina hit form and slaughtered Paraguay 6-1 to get to the final. Argentina is one of the dominant teams in global soccer, and its captain, Lionel Messi, one of the greatest players to ever play the game. The team was the losing finalist at last year's World Cup.
"It would be the greatest honor and pleasure to be able to scream we are the champions of America, that we are not dreaming," Correa said by phone. "It would be a dream come true to say that in soccer at least we don´t owe history anything."
Correa's style of commentary follows the South American tradition. He stands for almost the entire 90 minutes and speaks in staccato as the ball moves from one side to the other, using catchphrases that have brought him national fame. Once the ball hits the back of the net Correa screams the word "Gol", over and over again, extending each cry for several seconds to the point of going hoarse.
Ferraris and Fingers
"I get tired and voiceless sometimes, but it´s all worth it," Correa said.
At this year's event, his voice has been tested to the limit. Chile scored 10 goals in the opening group phase of the competition, more than any other team. It was then involved in controversial knockout wins over Uruguay and Peru, with both teams playing large portions of the games with fewer players after receiving red cards.
The team's exploits have received blanket coverage in local media in the Andean country of 17 million. The path to the final hasn't been as smooth as the results have suggested. Top midfielder Arturo Vidal was kept in the team even after being arrested for crashing his red Ferrari while under the influence of alcohol on June 16. His teammate Gonzalo Jara wasn't so lucky. He was kicked out after being caught on camera provoking a rival by poking his finger between his buttocks and then feigning injury.
No Fear
The current squad is among the best Chile has ever produced. Lining up against Messi and his star-studded Argentine teammates, who are going for a record equaling 15th Copa America, will be the likes of Alexis Sanchez, Vidal and Claudio Bravo, players considered among the elite of world soccer.
"This team isn´t afraid of anything, they stand equally against everyone," Correa said.
The commentator said he forecast the group was destined for greatness as far back as 2007, when Chile reached the Under-20 World Cup semifinals before being eliminated by Argentina, which went on to win the final. Players including Sanchez, Vidal, Gary Medel and Mauricio Isla, whose goal secured the June 24 quarterfinal win over Uruguay, were on that squad.
"I know these kids and I always knew they were going to be in the final of Copa America," Correa said.
While ending Chile's long wait for a title, victory tomorrow would extend Argentina's 22-year run without a championship and deprive Messi of a first senior title in national colors. The Copa America was first played in 1916.
Before it's here, it's on the Bloomberg Terminal.
LEARN MORE