BP's Spill Deal Is 'Catalyst' for Acquirers as Uncertainty Ends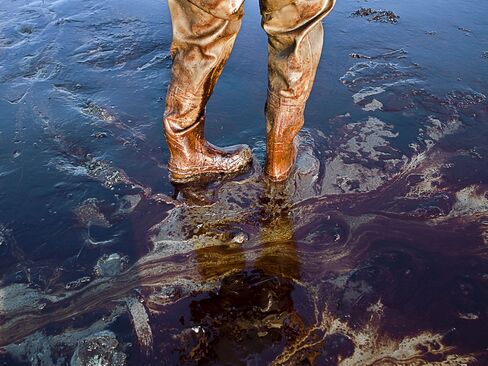 BP Plc's $18.7 billion U.S. legal settlement is being cheered by investors and analysts as it ends five years of financial uncertainty. It also makes the British oil producer a more attractive takeover target.
Potential buyers, held back by unquantifiable liabilities related to the company's 2010 Gulf of Mexico spill, may find a slimmed-down BP more appealing and digestible.
"The market is looking at that," said Ahmed Ben Salem, a Paris-based analyst with Oddo & Cie., who has a neutral recommendation on BP. "This could act as the catalyst because there's more clarity now."
The five years of battling the consequences of the worst oil spill in U.S. history has seen BP shed a third of its market value and assets, cutting production by about 1 million barrels a day. It could take Chief Executive Officer Bob Dudley years to restore the company's pre-spill financial performance, giving potential acquirers a window of opportunity.
BP climbed as much as 1.8 percent in London trading after advancing 4.4 percent on Thursday, when the company reached an agreement to pay a record amount to settle all federal and state claims from the oil spill that spewed thousands of barrels of crude into the Gulf of Mexico and along the coasts of five states. The settlement forced BP to raise it's total payout budget to $53.8 billion. Even that may not be enough.
Defenses Strengthened
The settlement didn't cover some businesses and residents in large swaths of Texas and Florida, who still demand billions. It also didn't include shareholders or investors blaming BP for the U.S. administration's moratorium on deep-water drilling in the Gulf after the spill. Still, BP's biggest threats are now gone.
The company stepped up its defenses against an opportunistic takeover earlier this year, and war-gamed strategies with advisers from firms including Morgan Stanley, according to people familiar with the situation. A buyer will also have to convince the U.K. government, which told BP in the wake of Shell's acquisition of BG Group Plc that it would oppose the acquisition of the oil producer by a foreign company.
A BP spokesman declined to comment on the company being a likely acquisition target after the U.S, legal settlement.
A slimmed down BP is also an attraction for potential buyers because it has the lowest enterprise value relative to its daily oil and gas production of any of the six largest U.S. and European energy producers. Based on the current share price, the ratio is less than half that of Exxon Mobil Corp.
Removing Overhang
Still, while BP has a lot to attract potential acquirers, including good deep-water prospects in Angola and the Gulf of Mexico and an industry-leading trading outfit, the company's size makes Exxon the only likely buyer, Oddo's Salem said.
"Both have assets in the Gulf of Mexico and both work with Rosneft in Russia," he said.
BP's shares have dropped in four of the past five years since the spill. They're up 6.5 percent this year in London, compared with a 1.5 percent gain for Total SA and a 7.7 percent decline for Royal Dutch Shell Plc.
The settlement this week removes the "overhang" on the shares and "it could help attract new investors, if not potential suitors," Investec Bank Plc analysts led by Neill Morton wrote in a report on Friday.
Yet, BP's $125 billion market value and almost $60 billion of debt is "a mighty ask," Banco Santander analyst Jason Kenney wrote in a report. Even with BP's long-term resources, a bid is "challenging."
Russian Assets
BP owns 20 percent of OAO Rosneft, which it got in exchange for its share of Russian venture TNK-BP. Rosneft, controlled by the Kremlin, is subject to U.S. and European Union sanctions. While in the long run that brings a prime position in one of the the world's largest energy-producing countries, there are plenty of near-term risks, and President Vladimir Putin's government could oppose a change of hands.
The window for BP's suitors remains open for as long as oil prices stay low. That is cutting cash flows and profits of oil companies and giving others with large cash balances an opportunity to grow their assets. The litigation settlement in the U.S. doesn't change BP's operational and cash-management outlook, Santander's Kenny wrote.
BP is the weakest among its peers in its capacity to increase oil production, he wrote. BP will also have to increase it's gearing to cover for the payouts in the U.S., Kenny wrote.
Before it's here, it's on the Bloomberg Terminal.
LEARN MORE