Malaysian State Investment Firm Denies Funneling Funds Into PM's Accounts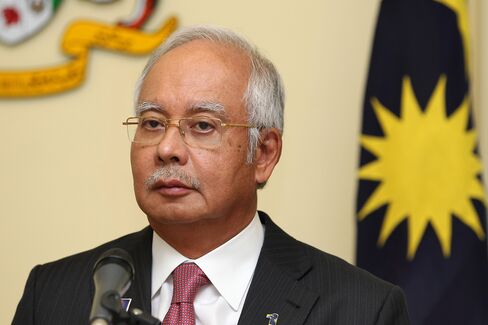 1Malaysia Development Bhd. denied it had funneled funds into Prime Minister Najib Razak's personal bank accounts, rejecting reports saying investigators believed they had found such a money trail.
About $700 million of funds may have moved through government agencies, banks and companies linked to state investment company 1MDB before apparently appearing in Najib's accounts, the Wall Street Journal reported, citing documents from a government probe. The Prime Minister's Office said Friday the claims were part of a "political sabotage" campaign by some individuals seeking to remove Najib from office.
"1MDB wishes to make clear that the company has never provided any funds to the prime minister," it said in an e-mailed statement. "To suggest otherwise, as some media outlets have done, is highly irresponsible and a deliberate attempt to undermine the company."
Investor confidence in Malaysia has been battered by growing scrutiny over Najib's management of debt-ridden 1MDB, whose advisory board he chairs. In a period of less than five years since it was set up, the company accumulated debt of 41.9 billion ringgit ($11.1 billion). Najib has resisted calls from former premier Mahathir Mohamad to step down as the country's leader over the debacle.
'Political Sabotage'
"There have been concerted efforts by certain individuals to undermine confidence in our economy, tarnish the government, and remove a democratically-elected prime minister," Najib's office said in a statement. "These latest claims, attributed to unnamed investigators as a basis to attack the prime minister, are a continuation of this political sabotage."
Najib has rejected Mahathir's criticism, saying he has a mandate to govern and will remain leader as long as he has the support of his United Malays National Organisation party and citizens. He isn't the only one struggling politically. The disparate opposition alliance collapsed in June after months of internal bickering.
"I have never taken funds for personal gain as alleged by political opponents," Najib said in a posting on his Facebook page late Friday. The documents on which the newspaper report is based were doctored, he said.
The government ordered the Auditor-General to verify 1MDB's accounts in March and Najib asked investigators to expedite the process in May. The Auditor-General said Thursday it had completed an interim report and will submit it on July 9 to a parliamentary committee that is also probing 1MDB. It declined to comment on the Wall Street Journal report on Friday.
Formal Inquiry
Bank Negara Malaysia said last month it had started a formal inquiry into 1MDB to examine "any contravention of the central bank's rules and legislation." The central bank also declined to comment on the report.
The Prime Minister's Office reiterated comments by 1MDB that it had never provided funds to Najib. The government investigation didn't provide details on what happened to the money in what may be Najib's accounts, while the original source of the funds was unclear, the Wall Street Journal said.
Najib must issue an "immediate, specific and credible response to these very serious allegations," according to Wan Azizah Wan Ismail, leader of the opposition in the Malaysian Parliament.
"The Prime Minister must also declare his assets publicly in a sworn statement," she said in an e-mailed statement Friday. The People's Justice Party which she heads "will press for an independent inquiry into these allegations," Wan Azizah said.
Reducing Debt
The revelations come at a time when the government is trying to pare down 1MDB's debt and winding down its operations through asset sales. The company repaid a $975 million syndicated loan led by Deutsche Bank AG in June using funds from Abu Dhabi's state-owned International Petroleum Investment Co., which provided the money as part of an agreement involving an exchange of assets and liabilities with 1MDB.
1MDB said recent revelations have raised concerns about the veracity of a number of "leaked" documents that some media outlets "have used to mislead the public and justify spurious allegations against the company and the government," according to its statement Friday.
Thai police are gathering evidence against a former executive of PetroSaudi International Ltd. after he was detained in the country for allegedly extorting money and leaking information on 1MDB. Xavier Justo is also alleged to have given information about the two companies to a U.K.-based news website known as the Sarawak Report, the Bangkok Post said June 24, citing police.
The Sarawak Report reported Thursday on a similar money trail involving SRC International Sdn., a company controlled by the finance ministry; Falcon Private Bank, the wealth manager owned by an Abu Dhabi sovereign wealth fund; and Malaysia's AMMB Holdings Bhd. An AMMB spokesman said it's unable to comment as the lender is guided by the Financial Services Act which governs client confidentiality.
The Malaysian Anti-Corruption Commission said it's started investigations into SRC's investments, and will conduct the probe in an independent manner. It didn't immediately comment on other allegations facing Najib.
(An earlier version of this story corrected the spelling of Mahathir in the sixth paragraph.)
Before it's here, it's on the Bloomberg Terminal.
LEARN MORE