Why Parking Cash in a Turkish Bank May Beat Investing in One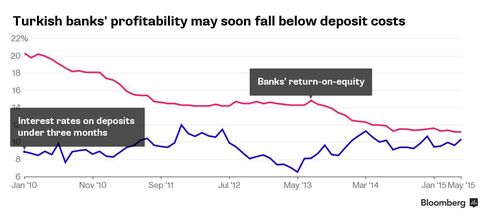 Soon you may reap better returns parking your money in a Turkish bank than investing in one.
While the country's lenders grew faster than Brazil, Russia, India and China's in the last ten years, profitability as measured by return on equity has fallen for the past five years in a row. In April, the industry's ROE fell to its lowest in a decade: down to 11 percent compared to highs above 23 percent in 2007, according to Bloomberg calculations.
If that slide continues, investors may soon get a higher return from putting their cash into a Turkish deposit account. Annualized interest rates on the most common form of deposits have climbed to 10.5 percent, according to the most recent central bank data. The last time ROE fell below deposit costs was 2008, when Turkey was in recession.
"Turkish banks simply aren't that profitable right now," Akin Tuzun, a bank analyst at VTB Capital in Moscow, said in e-mailed comments. That's "because of low real interest rates, too much competition, and regulatory measures, particularly on credit cards and consumer loans," he said.
Turkey's loan growth rose at an average above 25 percent per year in the decade after the restructuring of its financial industry that followed the 2001-2002 economic crisis. Then, fears of overheating prompted the government to take steps to curb the pace of growth, including making it more expensive to lend to consumers and cracking down on payment-through-installments.
Banks Speak
Some banks are pinning the blame for shrinking profit margins on those reforms. Last month, Huseyin Aydin, chief executive officer of state lender Ziraat and head of the banks' association, pleaded for the relaxation of some of the measures. Omer Aras, Finansbank chairman, said in an interview with Milliyet that HSBC's decision to sell its Turkish unit after 25 years is an indictment of the sector's profitability.
Some foreign banks are, indeed, voting with their feet. HSBC, which made a bigger loss than any of its competitors, is seeking to sell its business in the country, while Citigroup divested its Turkish banking stake in March.
Ergun Ozen, the chief executive officer of Turkey's largest publicly traded bank, Garanti, voiced the opposite verdict from his peers in a recent interview. He said lenders have been complacent in their pricing behavior, and the onus is on them to reform before the regulator makes any concessions.
Garanti, which is part-owned by Spain's Banco Bilbao Vizcaya Argentaria SA, had a return on equity of 14.6 percent as of its last filing.
Profit Squeeze
"In the short term you could roll back the trend by reversing regulation, but you'd only see a sustainable improvement in the cost of funding through reforms that incentivize Turks to save more," Cagdas Dogan, a banks analyst at BGC Partners in Istanbul, said by e-mail. Turkey has a lower savings rate, as a percentage of its GDP, than all but 1 of its fellow G20 countries.
Turkey's profit squeeze runs counter to the trend for banks in Europe and North America: while shareholders' returns there are lower, they've been improving, and the 8.9 percent return large U.S. banks registered last year is the highest level ROE's reached since 2007.
Turkey's loan-to-deposit ratio passed 100 percent four years ago, and has gone higher every year since then. By contrast, its major emerging market peers - Indonesia, Mexico, Nigeria - have volumes of loans that are comfortably under those of their deposits, insulating their banks from the competition Turkish lenders face in attracting cash.
"Margins have compressed largely due to competitive pressures and the higher cost of lira funding," said Ercan Uysal, a partner at Istanbul-based research firm Integras. "I expect cost-of-risk pressures to mount in the next few years due to asset quality deterioration, which will also weigh on return on equity."
Before it's here, it's on the Bloomberg Terminal.
LEARN MORE