U.K. Politician Theresa May Voted 'Internet Villain of the Year'
Theresa May faces backlash over "Snooper's Charter"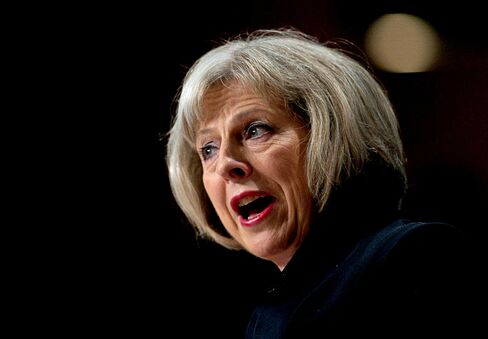 Theresa May, the U.K.'s Home Secretary, has been handed the title of the Web's No. 1 villain. She was picked by a lobbying group representing Google Inc., Microsoft Corp., AOL Inc. and Internet-service providers in Britain.
At its yearly awards dinner in London, the Internet Service Providers' Association accused the politician of seeking to expand Britain's Web surveillance powers "without yet fully consulting with industry and civil society."
Tech and telecommunications providers are worried about May's plans for an updated version of the U.K.'s laws allowing police and spies to track criminals and terrorists. An earlier version of her proposals, nicknamed the "Snooper's Charter," would have forced carriers to store much more data, potentially including histories of websites visited and data from U.S.-based companies such as Facebook Inc.
"The industry wants to take stock and say, what is it that you actually need, what is it that you actually want," said Andrew Kernahan, the ISPA's public affairs manager. "The Home Office has not wanted to do that and proceeded in a pretty backroom way."
May's office said it was not commenting on the nomination.
After Edward Snowden's revelations about surveillance, more people and companies are encrypting messages -- outpacing the ability of snoops, state sponsored and otherwise, to track them.
The security services argue that they need more powers to track the online exchanges of terrorists and are having difficulties accessing messages routed via U.S. providers. The U.K. is on guard against so-called "lone wolf" terrorists following the deadly attack on tourists in Tunisia.
"It is not possible to debate the balance between privacy and security, including the rights and wrongs of intrusive powers, without also understanding the threats,'' May said in June.
Privacy advocates counter that bulk data collection goes too far. "The problem with things like the Snooper's Charter is they look like a sledgehammer being used to crack a nut," said Jim Killock, executive director of the Open Rights Group.
Every villain needs a hero. Legislators David Davis and Tom Watson won the award for Internet good guys for their legal challenges on privacy. Also nominated was lawyer David Anderson, the government's independent reviewer of terrorism laws, who published a report last month arguing that U.K. intelligence agencies should only be allowed access to bulk Internet data if warrants are signed off by judges.
Read this next:
Before it's here, it's on the Bloomberg Terminal.
LEARN MORE