Tipco Plans to Spend $100 Million Lifting Capacity, Chaiwat Says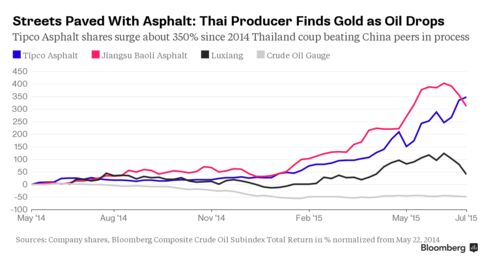 Tipco Asphalt Pcl, the best-performing Thai stock this year, plans to invest $100 million boosting capacity of the construction material on rising demand in Asia.
The Bangkok-based company will increase crude-processing capacity at its Malaysian plant to 50,000 barrels per day by 2018 from 30,000 barrels at present, Managing Director Chaiwat Srivalwat said. The investment will help the Tipco produce more of its own asphalt and reduce costs, he said.
"The factory is running at full capacity and in urgent need for expansion," Chaiwat said in an interview Tuesday at his office in Bangkok. "Additional capacity will strengthen the company's control of its own asphalt supply with higher gross profit margin."
Tipco, 32 percent owned by France's Colas SA, is benefiting from Asian governments' increased expenditure on roads and highways, aimed at stimulating growth. Its shares have more than tripled this year, the best performer on Thailand's benchmark SET Index, after the company's profit in the January-March period quadrupled from a year earlier.
The stock rose 1.3 percent to a record at the 12:30 p.m. local time break in Bangkok. The SET fell 0.5 percent.
Tipco produced about 70 percent of the asphalt it sold last year at the Malaysian facility, buying the remainder from other oil refineries in Southeast Asia. The company will fund the expansion in Malaysia from its cash flows, Chaiwat said.
The company's sales volume may rise as much as 15 percent in 2015 from the previous year, driven by demand from Malaysia, Indonesia and Thailand, Chaiwat said. The company, which sold about 2 million tonnes of asphalt in 2014, exports the construction material to more than 10 Asian countries.
Gross Margins
Tipco's gross profit margins will be at least 10 percent this year, Chaiwat said. That compares with 2 percent in 2014 and 4.9 percent in 2013, according to data compiled by Bloomberg. Gross margins were as high as 18 percent in the first quarter, when its net income rose to 1.13 billion baht ($33 million) from 254 million baht a year earlier.
Margins have improved as product prices have dropped at a slower pace than the cost of crude oil, he said. U.S. crude oil prices have fallen 45 percent drop over the past 12 months, according to data compiled by Bloomberg.
"Strong demand and lower material costs will continue to bolster Tipco Asphalt's earnings," said Chanpen Sirithanarattanakul, head of research at DBS Vickers Securities (Thailand) Co. "The company's dominant position in Thailand and Southeast Asia has enabled it to boost the profit margin."
Before it's here, it's on the Bloomberg Terminal.
LEARN MORE