TIMELINE: Argentina's Presidential Elections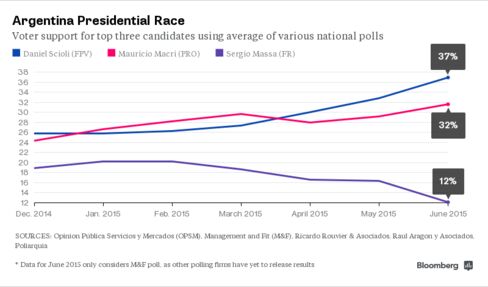 Argentina's presidential elections in October will be the first in 12 years that won't feature President Cristina Fernandez de Kirchner or her late husband Nestor Kirchner as candidate.
* March 15: Radical Civic Union votes to form alliance with main opposition candidate Mauricio Macri
* June 9: Dissident Peronist candidate Sergio Massa says he'll remain in race and won't form alliance with Macri
* June 16: Daniel Scioli names Fernandez ally Carlos Zannini as his vice presidential running mate. Stocks, bonds and black market peso tumble on speculation appointment means currency controls and subsidies will be kept in place
* June 20: President Fernandez says she won't put herself forward for elected office; her son, Maximo Kirchner, will run for lawmaker in Santa Cruz, while Economy Minister Axel Kicillof will stand in city of Buenos Aires
* July 5: Regional election in Buenos Aires where Macri's candidate Horacio Rodriguez Larreta must see off challenge from former Economy Minister Martin Lousteau. Cordoba, La Rioja and Corrientes provinces also hold elections
* July 10: Official start of campaigning for primaries
* July 19: Possible second round vote for Buenos Aires elections
* Aug. 9: Primaries to choose candidates for president. Candidates for governor, lawmaker and senators for some provinces also chosen **Scioli to run uncontested as ruling FpV alliance candidate **Macri to compete with Ernesto Sanz, Elisa Carrio **Massa to compete with Jose Manuel De la Sota
* Sept. 20: Official start of general election campaign
* Oct. 25: Presidential election. Provinces of Jujuy, Formosa, Catamarca, Misiones, San Juan, San Luis, Entre Rios, Buenos Aires, La Pampa, Chubut and Santa Cruz also hold regional elections **Candidate must win more than 45% or more than 40% with 10ppt margin of victory over rival to avoid second round
* Nov. 22: Possible second round of presidential elections
* Dec. 10: New president sworn in
Before it's here, it's on the Bloomberg Terminal.
LEARN MORE