This Chart Shows Why Citigroup Says Chile Stocks Are a 'Screaming Buy'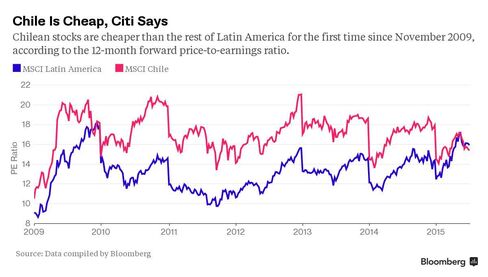 Chilean stock valuations are at the most attractive in almost six years, according to Citi-Banchile, the joint research department of Citigroup Inc. and Banco de Chile.
"We are getting very close to a screaming buy," analysts Fernan Gonzalez, Andrew McCarthy and Stephen Graham said in a note to clients.
The price-to-estimated-earnings ratio of the MSCI Chile index, which historically trades at an average premium of 33 percent to the Latin American average, is at a discount for the first time since 2009. Chile's premium versus Brazil has shrunk to 11 percent versus a historical average of 50 percent, the analysts said. Brazil's economy is forecast to contract 1.3 percent this year, while Chile's should grow 2.7 percent.
"Are things in Chile as bad as in Brazil? We seriously doubt it," the analysts wrote.
Before it's here, it's on the Bloomberg Terminal.
LEARN MORE