Say 'Konnichi Wa' to Robots in Tokyo Airport as Population Ages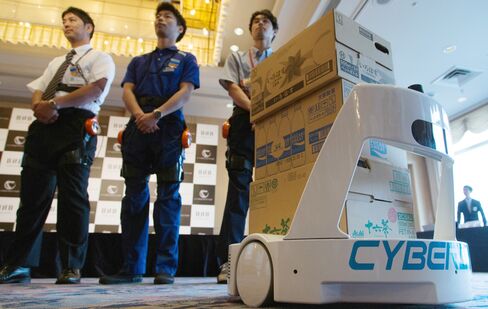 Say "konnichi wa" (hello) to the newest worker at Tokyo's Haneda airport -- a robot.
The Tokyo city airport will lease 11 robots in September that will clean the facilities and carry baggage. Authorities say that's just the beginning, and if the robots are good at the work then more airports around the country will hire them.
"I want to expand it to all other airports in Japan, and also to airports worldwide," Japan Airport Terminal Co. President Isao Takashiro said. The airport operator leased the robots from Cyberdyne Inc., the two companies said in a statement Thursday.
Robots are invading Japanese work places as companies grapple with an aging and shrinking labor force. About 26 percent of Japan's 127 million population are aged over 65, the highest percentage among the top seven industrialized nations. Softbank Group, led by billionaire Masayoshi Son, last month sold 1,000 units of its Pepper robots in one minute.
Japan remains among the leaders in the development and use of robots. The pact announced Thursday aims to make Haneda "a world pioneer in robot technology in airports, creating a vision for the future," Japan Airport Terminal and Cyberdyne said in their statement.
Japan Airport Terminal had asked Cyberdyne to develop airport robots ahead of the 2020 Olympic Games, which will be held in Tokyo, Takashiro said.
"We need the special service with advanced Japanese technology" for the Olympics, Takashiro said.
The robots introduced Thursday resemble wet-dry vacuums or motorized stools rather than people. Cyberdyne also is providing a version of its HAL robotic exoskeleton that fits around a person's lower back, enabling human workers to lift heavier items without straining.
Japan Airport Terminal has asked Cyberdyne to develop additional robots that can be used for security and as airport ushers, helping tourists find their way around the terminal, Takashiro said. Haneda is the seond-busiest airport in Asia and the fourth-busiest in the world, according to the International Air Transport Association.
Before it's here, it's on the Bloomberg Terminal.
LEARN MORE