Rajan Says India Regulators to Review Foreign Debt-Buy Limit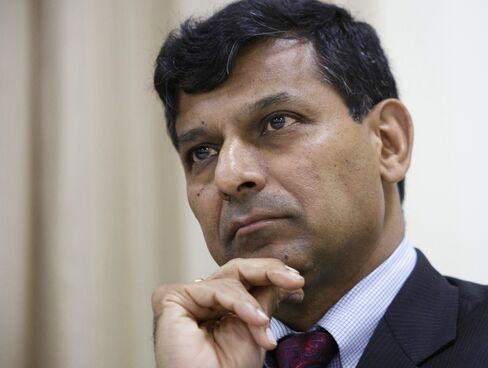 India's central bank and markets regulator will discuss a plan to examine the foreign investment limit in government debt, Reserve Bank Governor Raghuram Rajan said.
"We have broadly decided to look at limits twice a year and we just have to fix the date" of the appraisal, Rajan told reporters in Chennai on Thursday. "We are committed to a steady expansion in the absolute value of FII participation."
Foreign institutional investors have almost exhausted the $30 billion limit imposed in 2013 on purchases of sovereign debt. Policy makers are considering ways to ease investment while looking to shield India from volatility sparked by the Greek crisis or a potential increase in U.S. interest rates.
India may express the investment limit in rupees instead of dollars, Finance Secretary Rajiv Mehrishi said June 26. At the current exchange rate the cap amounts to $24 billion, he'd said.
"Markets are looking forward to opening of limits but they may be opened gradually," said Sagar Shah, Mumbai-based vice president of treasury at RBL Bank Ltd. Pressure on bond yields will ease if foreigners are allowed to buy more, he said.
The yield on notes due May 2025 fell one basis point to 7.81 percent in Mumbai on Thursday after Rajan's comments, according to prices from the central bank's trading system. The rate rose 22 basis points in June, the biggest increase on a 10-year bond since August 2013.
Euroclear Proposal
India had last raised the debt-purchase limit by $5 billion in June 2013 to lure inflows and stem the rupee's 5 percent plunge that month as foreign investors pulled cash from the nation's equities when the U.S. signaled it would reduce its stimulus. Indian policy makers have historically limited debt inflows to manage volatility and the government's liability.
Rajan said the government is in talks with Euroclear Bank SA and Clearstream Banking SA on a plan that would make it easier for foreigners to trade the bonds while keeping transactions within India.
"One of our worries was that if we allow the trading to go abroad, it would take away liquidity from domestic markets," he said. "Recently, they came up with a proposal which would leave trading in the domestic markets, which looks quite reasonable."
Before it's here, it's on the Bloomberg Terminal.
LEARN MORE