No End in Sight for Kiwi's Record Slide as Milk Glut Overwhelms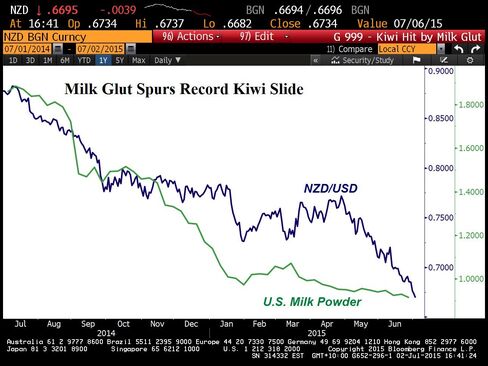 New Zealand's dollar tumbled to a five-year low and headed for its longest stretch of weekly declines on record as falling milk prices amplified speculation the nation's central bank will cut interest rates this month.
The kiwi slid against all of its 16 major peers Thursday after the average price of whole milk powder fell at auction. The Reserve Bank of New Zealand cited "weaker prospects for dairy prices" as a headwind to economic growth when it cut interest rates in June. U.S. farmers are tipping some of their milk into manure pits because they can't find buyers with global output climbing to unprecedented highs.
"The very weak dairy auction was a slight surprise and the outlook is looking quite poor," said Emma Lawson, senior currency strategist at National Australia Bank Ltd. in Sydney. "Aussie-kiwi kicked up through some new levels and has resulted in some purchasing of the currency pair; those technical factors also helped subdue the New Zealand dollar today."
The kiwi fell 0.8 percent to 66.79 U.S. cents as of 6:41 a.m. New York time, and touched 66.71 cents, its lowest level since June 2010. It's headed for an 11th-straight weekly decline, the longest losing streak since it was freely floated in 1985.
New Zealand's currency weakened 0.2 percent to NZ$1.1376 per Australian dollar, adding to last quarter's record 11 percent slide.
The average price for whole milk powder fell to $2,054 a metric ton from $2,327 at the previous auction, according to the GlobalDairyTrade website. A price index compiled by the company declined to its lowest since 2009.
Manure Pits
Agri-Mark, a 1,200-dairy cooperative in New England that had $1.1 billion of sales last year, started pouring skim milk last month into holes used for livestock manure. Globally, production will rise 2.1 percent to a record 582.52 million tons as top exporter New Zealand sells the most ever and the European Union ends limits on dairies that had been in place since 1984, the USDA said.
The plunge has spurred some economists to forecast New Zealand's central bank will fully reverse its 2014 policy tightening when it raised interest rates by a percentage point.
RBNZ Governor Graeme Wheeler will return the official cash rate to a record-low 2.5 percent this year with consecutive quarter-point cuts in July, September and October, ASB Bank Chief Economist Nick Tuffley said Thursday. Wheeler trimmed the benchmark to 3.25 percent last month.
Australia & New Zealand Banking Group Ltd. also cut its forecast today, joining Deutsche Bank AG in predicting a cash rate of 2.5 percent as lower farm incomes damp economic growth and inflation.
"Weaker incomes generated by lower prices is a big headwind for the New Zealand economy," said Peter Dragicevich, a foreign-exchange strategist at Commonwealth Bank of Australia in London. "The RBNZ has got more work to do. We're looking for them to cut rates again in July and potentially more later in the year."
Before it's here, it's on the Bloomberg Terminal.
LEARN MORE