Bogota Terrorist Attacks Hit Aval Pension Fund Branches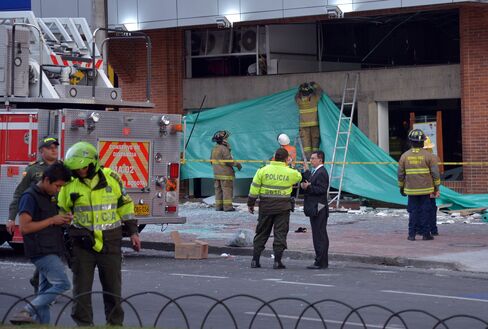 Bomb blasts in the Colombian capital Bogota hit two branch offices of Grupo Aval Acciones y Valores SA's Porvenir pension fund, injuring at least seven people.
A blast before 4pm destroyed at least one floor of an office building three blocks from the city's stock exchange, leaving glass and debris strewn across the street. Another explosion at about the same time damaged another Porvenir branch office near downtown.
President Juan Manuel Santos cut short a visit to Peru, where he was attending a meeting of the Pacific Alliance bloc, which includes Mexico, Chile, Peru and Colombia.
Defense Minister Luis Carlos Villegas told reporters in Bogota that the blasts were terrorist attacks, and said that the bombs were of a low potency.
The Porvenir branches received bomb warnings ahead of the blasts, Bogota government secretary Gloria Florez told reporters in Bogota. Florez said authorities are investigating who is behind the attacks.
Grupo Aval declined to comment in an e-mail, saying it didn't have additional information. Aval is controlled by billionaire Luis Carlos Sarmiento Angulo, Colombia's second-richest citizen, who also owns El Tiempo newspaper.
Before it's here, it's on the Bloomberg Terminal.
LEARN MORE