Japan's Retail Traders Betting Yen Haven Surge Will Be Fleeting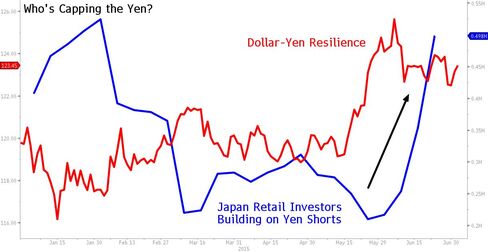 Japan's retail investors aren't buying into the yen's rally even as the Greek crisis spurs traditional haven flows into the Asian nation's currency.
Wagers by individuals, who borrow so they can trade greater amounts than the cash held in their accounts, turned the most bearish on the yen since February last week, just as Europe's turmoil amplified the currency's rebound from last month's 13-year low against the greenback.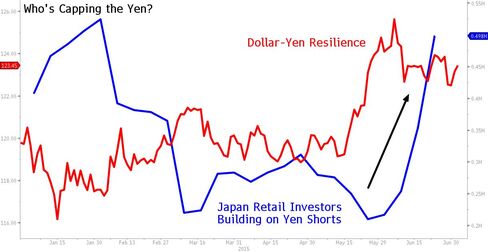 The yen weakened to 125.86 per dollar on June 5 and has dropped 2.9 percent this year amid prospects the Federal Reserve in moving toward raising interest rates while the Bank of Japan sticks to record monetary easing. Japan's currency surged to 121.94 on June 30, the strongest in a month, on concern would Greece will miss debt payments, only for the currency to decline beyond 123-level two days later.
"Individual investors' bargain hunting is supporting the dollar-yen," said Kengo Suzuki, chief currency strategist at Mizuho Securities Co. in Tokyo. "Views are firmly rooted in the trend for a stronger dollar and a weaker yen as the U.S. raises interest rates, while Japan keeps an easy monetary stance."
Bets among smaller investors for the yen to weaken against the dollar climbed to 498,134 contracts on June 23, according to the latest data available from the Tokyo Financial Exchange Inc.'s Click 365, where such trading takes place. That's the most since a record 524,472 contracts on Feb. 3.
'Typical' Behavior
"It's typical retail behavior," said Simon Pianfetti, a senior manager at the market solutions department at SMBC Trust Bank Ltd. in Tokyo. "They at least waited for the dollar-yen to fall a bit to unwind their short positions."
One-week implied volatility on the yen against the dollar, a measure of bets on future price swings, jumped to the highest since Feb. 3 on June 29. The yen fell 0.2 percent to 123.39 per dollar at 8:05 a.m. in London, after Greece signaled it was ready to compromise on ending a standoff over bailout aid. The Mediterranean nation will hold a referendum on creditors' demands on Sunday.
"Dollar-yen volatility will rise as the yen will be hit by speculative trade related to Greece," said Masashi Murata, vice president at Brown Brothers Harriman & Co. in Tokyo. "Rising volatility pushed the lower end of the range but the trend isn't down. The floor is firm and buying at lows is the trading idea."
Before it's here, it's on the Bloomberg Terminal.
LEARN MORE