A Greek, an Italian and German are born as the crisis that rattled markets from New York to Shanghai was about to unfold: Three nationalities, three very different economic fortunes.
At age 3, the German is growing up in an economy that's already in better shape than when he was born. The Italian will have to wait till she's 17 to enjoy similar conditions in her own country. The Greek will reach adulthood without any chance of a better future until he's at least 18.
Bloomberg crunched International Monetary Fund's data and forecasts, to map out their futures by the numbers in four charts. The scenarios are based on the last IMF forecasts released in April. The economic outlook has darkened since.
1. When will it end?
Babies born in 2007-2008 couldn't know they were going to grow up in countries that were hurtling into recession. This chart shows how old these kids will be by the time their economies have returned to pre-crisis levels.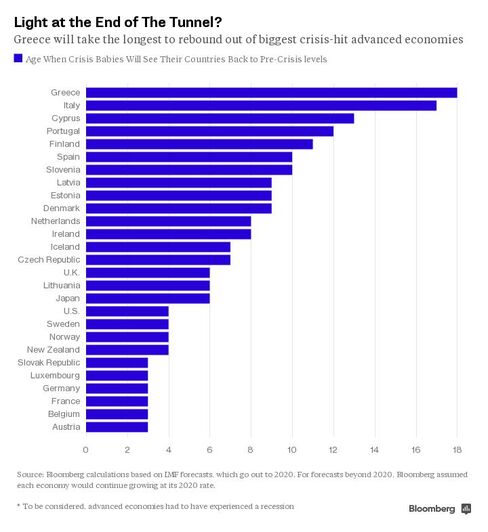 2. Economic resilience
This chart shows how long it will take for economies of Italy and Greece to catch up to pre-crisis levels.
Germany, the euro region's powerhouse, recouped lost ground in just three years. By contrast, Greece's GDP was 25.8 percentage points under the pre-crisis level in 2014.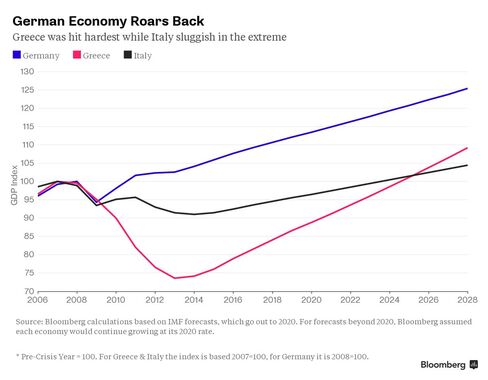 3. Labor lost
The job market is looking pretty dire if you are an Italian girl or Greek boy born in recession times. They might want to move to Germany, where in 2020 unemployment will be half what it is in their own countries. Dial the clock back a decade, it was a very different story. Germany actually had a higher unemployment rate than Greece.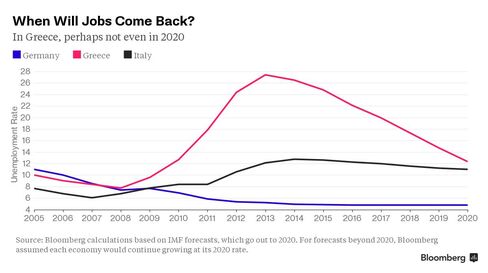 4. Farming on the rise?
For the first time on record, the contribution of agriculture to the economies of Greece and Italy rose between the crisis and 2014. That represents a U-turn in the century-long process of industrialization. In Germany, industry just got stronger.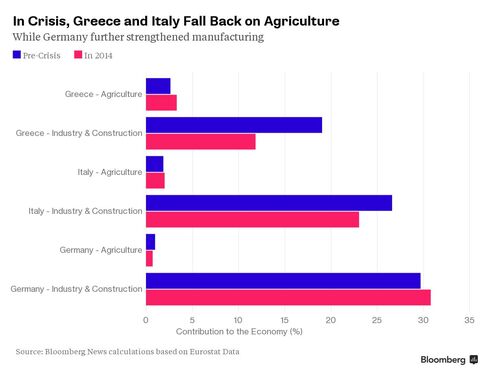 5. Poverty
In the meantime, poverty is pervasive in Greece and Italy, forced into severe spending cuts to reduce their deficits. This chart shows what kind of economic fate awaits the children of the lesser (and greater) euro.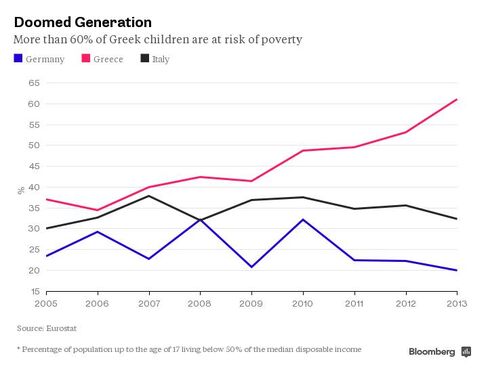 Before it's here, it's on the Bloomberg Terminal.
LEARN MORE