Defiant Varoufakis Says He'll Quit If Greeks Endorse Austerity
Yanis Varoufakis said Greece won't "extend and pretend" that it can pay its debts, vowing to quit as finance minister if voters don't support the government in Sunday's referendum.
With banks shut and the economy hobbled by capital controls, Varoufakis said in a Bloomberg Television interview in Athens that he would "rather cut my arm off" than sign a deal that fails to restructure Greece's debt. The International Monetary Fund said the country needs at least another 36 billion euros ($40 billion) from the euro region over the next three years and easier terms to make the debt sustainable.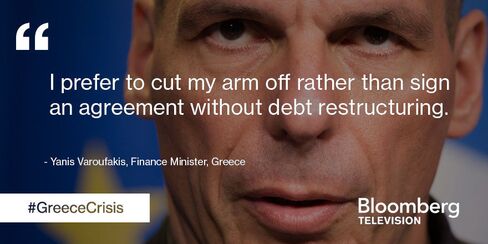 "We desperately want to stay in the euro," Varoufakis said. "We are going to win on Sunday." The 54-year-old economics professor said he "will not" continue in his post if Greece endorses austerity in the vote.
"Maybe we'll change the configuration of the government"
The minister's comments illustrate the gulf between Greece's government, which swept into office on a wave of discontent about budget cuts, and the creditors who are threatening to push it out of the euro.
European governments led by Germany have condemned last weekend's decision by Prime Minister Alexis Tsipras to pull out of talks and call a snap referendum on the conditions for financial aid. Polls suggest the outcome is too close to call.
'Stomach' a Deal?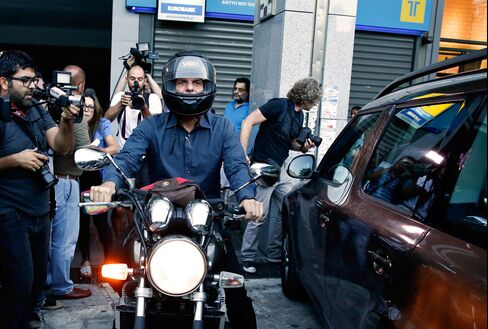 Tsipras, Varoufakis and their Syriza party are urging Greeks to vote "no," arguing that Greece can remain in the single currency on better terms if they do so -- a contention rejected by creditors. A "yes" vote could lead to the collapse of the Tsipras government and fresh elections, a possibility to which Varoufakis alluded.
"Maybe we'll change the configuration of the government because some of us will not be able to stomach it," said Varoufakis, adding he would help ensure a smooth transition.
With no bailout program in place and banks running short on funds, lenders are closed all week and capital controls are in place. Local media have begun to speculate that deposits could be seized to bolster the country's finances; for now, citizens can withdraw a maximum of 60 euros a day.
Safe Deposits
Minister of State Nikos Pappas tried today to put to rest concerns about such a "bail-in" of depositor funds. The government sees no reason for one and doesn't consider it an option, he told Bloomberg Television.
The euro gained 0.4 percent to $1.1101 as of 4:22 p.m. in London. It has declined 8.3 percent against the dollar this year.
The uncertainty has created surreal scenes in Greece, with lines continuing at bank machines, employers uncertain they can pay wages, and everyone from cab drivers to factory workers and students debating Syriza's tactics. Many merchants are asking customers to pay with cash, fearing that card payments won't be processed due to the financial turmoil.
Varoufakis today insisted that Greece's banks will be able to open without difficulty on Tuesday, after the planned closure is completed. He blamed creditors for shutting them down and accused them of making up rules as they go along.
"There was a political decision by Europe to shut the banks down as a way of effectively pushing us to accept a non-viable agreement," Varoufakis said. "Once the political crisis is over, after the Greek people deliver their verdict, banks will open."
Read this next:
Before it's here, it's on the Bloomberg Terminal.
LEARN MORE