China Cash-Hungry Builders Find New Funding Frontier on Internet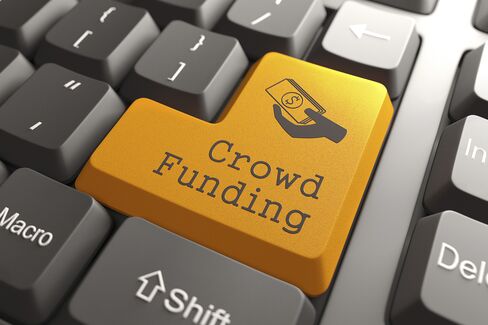 Developers in China have found one place where they can get easy money while Premier Li Keqiang seeks to avert a property slump. Cyberspace.
Dalian Wanda Group Co., owned by China's richest man Wang Jianlin, said it broke a global crowdfunding record when it raised 5 billion yuan ($806 million) online within three days last month. A unit of Greenland Holding Group Co., the nation's biggest developer by revenue, has gotten 3 billion yuan since it turned to the Internet to sell asset-backed securities in April.
Faced with $18 billion of bonds to repay before the end of next year and a real estate market in the doldrums, property companies are looking at alternative ways to get the cash they need. Selling notes offshore was made harder after Kaisa Group Holdings Ltd. in April became the first developer to default on its U.S. currency debt, while access to the interbank market is just being opened after years of being off limits.
"The Internet can help developers collect money in an easy and efficient way," Zhu Mingchun, the Beijing-based co-founder of research firm Yingcan Group, said. "Compared with individual investors, banks are stricter with lending when it comes to developers because the market is yet to recover."
Bank Loans
Bank loans to property developers dropped 6.8 percent to 874 billion yuan in the first five months of the year, statistics bureau data showed last month. Issuance of property trust products, which channel money from wealthy investors, fell to 54.6 billion yuan in the first half compared with 140 billion yuan the same period of 2014, Use Trust data show.
"Banks are extending loans only to the top 50 developers," Geng Jing, Shanghai-based president at Greenland Financial Holdings Group, Greenland's investment arm, said. "Those ranked below still can't obtain loans from banks. Funding differentiation between bigger and smaller developers will widen further."
Greenland has sold asset-backed securities on Zhao Cai Bao, a lending platform owned by Alibaba Group Holding Ltd., and Lufax.com, an Internet venture backed by Ping An Insurance (Group) Co., since April. The products, called 'di chan bao', which means property baby in Chinese, are backed either by Greenland's shanty town renovation projects or by smaller developers' assets of good quality, Geng said.
Property Baby
The company, which according to its website also operates hotels and convention centers, plans to sell another about 7 billion yuan of di chan bao this year and 30 billion yuan in 2016, Geng said. It may also issue securities backed by the property collateral held by trust companies.
"In addition to the existing Internet platforms we're cooperating with, we will explore other sales channels for di chan bao, such as our financial management subsidiaries and financial exchanges," said Geng.
Dalian Wanda also plans to develop more online products to help spur the growth of Internet finance in China as a whole, it said in a June 25 e-mail response to Bloomberg. The company will complete its second crowdfunding next week and investors can expect annualized returns of more than 12 percent, according to a separate statement July 1.
Regulators in China have responded to the cooling property market by easing home buying rules, cutting benchmark interest rates to a record and letting more real estate firms tap the interbank bond market. Residential sales rose for the first time this year in April and extended gains in May.
'Stronger Position'
Even so, the extra spread over Treasuries investors demand to own high-yield Chinese dollar bonds has risen 41 basis points to 747 basis points from a low this year in May, a Bank of America Merrill Lynch index shows. Property company debentures comprise about 70 percent of the index.
"The property sector will likely go through a consolidation -- the strong will get stronger, the weak will get weaker," said Frank Chen, the Shanghai-based head of China research at commercial real estate services firm CBRE Group Inc. "If you have better access to financing, you're in a stronger position."
Beijing-based Modern Land China Co. raised 39.7 million yuan via online crowdfunding earlier this year to help pay for apartments being built in a suburb of the capital, and by the sea in the northeast province of Liaoning. For the Beijing raising, punters who signed up can also get a discount if they buy one of the units, on top of a return of about 5 percent.
"Compared with traditional financing methods, which have higher borrowing costs and take a longer time, online crowdfunding can help developers cut financing costs by 1 to 2 percent, and get more prepayments from home buyers," said Li Yi, the chief executive officer of 51wofang, the Internet platform Modern Land used to raise its money.
More than 70 developers have come to discuss online funding options with the company, with approaches averaging about three per day, he said.
Faye Fang, a Hong Kong-based investor relations officer at Modern Land, agreed Internet financing can help lock in potential customers ahead of apartment sales. "The scale of property companies' Internet crowdfunding is small but expanding at a fast pace," she said.
"I expect more developers to take this approach," CBRE's Chen said. "However I wouldn't expect Internet finance will become a major funding channel in the near future."
— With assistance by Judy Chen
Before it's here, it's on the Bloomberg Terminal.
LEARN MORE