BP to Get Its Life Back After Record U.S. Settlement for Spill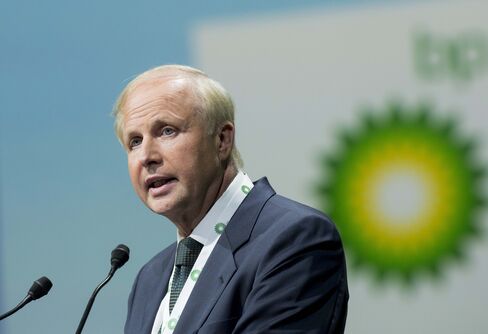 BP Plc is seeking a fresh start as a record $18.7 billion U.S. settlement over its 2010 Gulf of Mexico oil spill ends five years of financial uncertainty for the company.
Chief Executive Officer Bob Dudley, who took over in the wake of the spill in April 2010, said he would now be able to spend more time running operations and less dealing with the consequences of the disaster. He will have his work cut out as the company sold about a third of its assets to pay liabilities and its production slumped by about a million barrels a day.
Resolution of the major liabilities came two years earlier than expected, Brewin Dolphin Ltd. analyst Iain Armstrong said. It may benefit BP's credit rating, Fitch Ratings said Thursday.
"They will certainly not be complaining about the payment and the terms," said Armstrong, an oil analyst in London who has a neutral rating on BP. Now "there's the certainty over the amount, there's increased certainty over covering dividends."
Investors drove up BP stock by the most in more than a year and a half after the settlement was unveiled Thursday. BP advanced as much as 5.3 percent, the most since October 2013, and closed up 4.4 percent at 437.40 pence in London trading.
"This allows BP to manage its own financial framework with more predictability," Dudley told a conference call in London. It "makes it much clearer in terms of planning the future of the company and managing our investments," he said.
The catastrophe began April 20, 2010, after a blowout at the Macondo well, resulting in a fire at the Deepwater Horizon rig. Eleven men died in the explosion. The well spewed oil into the Gulf of Mexico and onto shores of five states during the 87 days it took to seal it. The spill is the worst in U.S. history.
Public Anger
Dudley was named CEO after former boss Tony Hayward faced public anger over his handling of the leak. Hayward apologized in June 2010 for his comment, amid intense criticism in the wake of the spill, that he wanted his "life back."
Numerous lawsuits followed from individuals and businesses seeking compensation. Some of these will continue and potential payments related to those claims are still unknown, said Aneek Haq, head of oil and gas at Exane BNP Paribas in London.
BP will pay the federal government and states over the next 18 years. It raises the London-based producer's total provision for the spill to $53.8 billion, about the gross domestic product of Luxembourg. Even so, the settlement won't jeopardize BP's dividend payments or capital spending, Dudley said.
Value Sunk
The past five years have been tough. Market value sank to $125 billion from $185 billion. While some investors welcomed a leaner company, the loss in value made BP an acquisition target, with Royal Dutch Shell Plc considering a bid before taking over BG Group Plc instead in April. Production is down and it won't be easy for Dudley to replace, Dolphin's Armstrong said. Oil's price slump in the past year has made it even more difficult.
The company used lower prices, which cut its ability to pay a huge fine, to "hammer the government into a payout plan that stretched out over several years," David Berg, a Houston trial lawyer who tracked the spill litigation but isn't involved, said by phone. "The terms of this settlement will be easy for BP to meet. Nonetheless, the total amounts are staggering."
The 18-year payment schedule means the maximum BP will hand over each year will be about $1.1 billion, according to the company. The figure will drop off in the last few years, with the company paying $260 million in the final year.
While Exane's Haq sees the stock overhang erased, fallout from the disaster on the oil giant's broader business remains.
"The positive of course is that a material overhang for the shares has been removed," he said. "Our concerns remain about the business portfolio where we believe challenges still remain following years of under-investment post-Macondo."
BP's Dudley is looking forward to focusing on investments again. "We'll get back to running a more conventional oil and gas company," he said. "We'll be able to spend more time in finding, producing, developing oil and gas and products."
Before it's here, it's on the Bloomberg Terminal.
LEARN MORE