U.S. Stocks Rise Amid Optimism on Greece Before Payrolls Data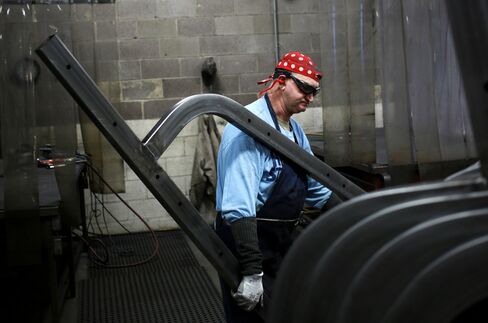 U.S. stocks rose, after equities capped their worst quarter since 2012, as Greece signaled it was ready to compromise for a bailout and investors awaited tomorrow's monthly jobs report amid signs of a strengthening labor market.
Financial shares in the Standard & Poor's 500 Index gained the most in three weeks as Chubb Corp. surged 26 percent after Ace Ltd. agreed to buy the insurer for $28.3 billion in cash and stock. Travelers Cos. gained 2.7 percent, the most since January. Energy companies retreated 1.3 percent as oil fell on higher supplies.
The S&P 500 climbed 0.7 percent to 2,077.42 at 4 p.m. in New York, for its best gain in two weeks. The Dow Jones Industrial Average added 138.40 points, or 0.8 percent, to 17,757.91. The Nasdaq Composite Index advanced 0.5 percent, while the Russell 2000 Index gained 0.2 percent to erase an earlier decline. About 7 billion shares traded hands on U.S. exchanges, 11 percent above the three-month average.
"The prospects of removing some of the macroeconomic uncertainty associated with Greece is boosting stocks," said Mark Luschini, chief investment strategist in Philadelphia at Janney Capital Management LLC, which oversees about $68 billion. "We also got an ADP report this morning that was much better than expected, which bodes well for tomorrow morning's payroll report."
Greek Discussions
Greek Prime Minister Alexis Tsipras said he was willing to accept creditors' latest offer as a basis for compromise. The July 5 referendum on more austerity and disagreements over pensions, spending and taxes remain sticking points. Equities trimmed their advance after Tsipras hours later called on voters to reject austerity measures in Sunday's referendum, hardening a standoff with creditors.
The S&P 500 halted a nine-quarter winning streak Tuesday, losing 0.3 percent in the past three months and extending its worst start to a year since 2010. Prospects for higher interest rates and Greece's travails have frozen a market that rose 47 percent between 2011 and 2013.
The index is still up 0.9 percent in 2015, holding in a tight range close to a record even after three years of double-digit gains, on optimism the economy is strong enough to withstand higher rates this year.
Jobs Data
A report today showed companies in the U.S. boosted employment in June by 237,000, the most in six months. The June gain exceeded the Bloomberg median survey of economists that called for a 218,000 advance. The government's monthly payrolls report Thursday is forecast by economists to show 233,000 jobs added in June, after a 280,000 increase in May.
Separate data showed manufacturing expanded in June at the fastest pace in five months, indicating domestic demand is allowing America's factories to withstand sluggish overseas economies.
A forecast for slower economic growth, a stronger U.S. dollar and a collapse in earnings at energy producers spurred Goldman Sachs Group Inc. to cut its estimate for U.S. profits by 6.6 percent. The firm now sees 2015 earnings by S&P 500 companies at $114 a share, after predicting $122 in October.
The Chicago Board Options Exchange Volatility Index slipped 12 percent Thursday to 16.09. The gauge, known as the VIX, surged 32 percent in June, its biggest monthly gain of the year.
Sector Moves
Nine of the S&P 500's 10 main groups advanced on Wednesday, with financial and consumer shares gaining more than 1 percent. Chubb's 26 percent surge to a record led a 1.3 percent increase in S&P 500 financial shares, the biggest sector gain of the day. Insurers in the group also benefited from the deal, with Hartford Financial Services Group Inc., Travelers and Progressive Corp. rising more than 2.1 percent.
Casino companies paced a gain in the consumer discretionary sector. Wynn Resorts Ltd. increased 4.5 percent, a day after reports that China eased restrictions on local tourists visiting Macau. Las Vegas Sands Corp. and MGM Resorts International climbed more than 1.6 percent.
The S&P 500 energy shares slid 1.3 percent as crude oil fell more than 4 percent, the resource's biggest decline since April 8. Chesapeake Energy Corp. sank 5.6 percent, while Consol Energy Inc. and Transocean Ltd. lost more than 3.2 percent.
Peabody Energy Corp. plunged 19 percent, bringing its loss for the past 12 months to 89 percent. The largest U.S. coal producer dropped after saying second-quarter earnings will miss an earlier forecast because of bad weather and lower prices for the variety of the commodity used by steelmakers.
GM Down
General Motors Co. lost 0.9 percent to a five-month low after sales fell 3 percent in June, as the largest U.S. automaker slashed deliveries to rental-car companies. Analysts had anticipated a 3 percent increase.
Ford Motor Co. slipped 0.1 percent and was down for a fifth day, its longest losing streak since September. Ford's sales almost missed estimates, with a 1.5 percent light-vehicle gain, compared with projections for a 2.3 percent increase.
A Bloomberg index of U.S. airlines dropped 2 percent, and earlier as much as 4.7 percent. The U.S. Justice Department has opened an antitrust investigation into some airlines for possible unlawful coordination, a spokeswoman said. JetBlue Airways Corp., SkyWest Inc. and Delta Air Lines Inc. fell more than 1.9 percent.
Before it's here, it's on the Bloomberg Terminal.
LEARN MORE