Alabama Ordered Again to Issue Gay Couples Marriage Licenses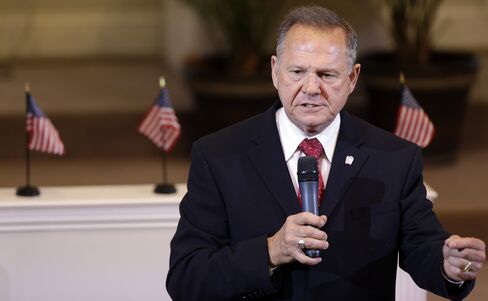 Alabama officials were ordered by a federal judge to issue marriage licenses to same-sex couples amid regional resistance to last week's U.S. Supreme Court ruling.
The Gulf Coast state may be the last holdout as neighboring Mississippi as well as Louisiana and Texas told the U.S. Court of Appeals in New Orleans that they were conceding legal battles against gays who sued for the right to wed.
U.S. District Judge Callie Granade in Mobile struck down Alabama's ban this year as similar cases made their way to the nation's highest court. On June 26, the Supreme Court ruled in a landmark 5-4 decision that same-sex couples have a constitutional right to marry.
Some Alabama probate judges continued to refuse to issue licenses to same-sex couples, the National Center for Lesbian Rights said Wednesday in a court filing.
That prompted a new order from Granade that her earlier rulings were now in effect and that all Alabama probate judges were required to give gay couples marriage licenses on the same terms as their heterosexual counterparts.
Her order Wednesday followed an earlier conflict with Alabama's top court and its chief justice, Roy S. Moore.
After Granade overturned the state's gay-marriage ban in January, Moore's court ordered the state's 68 probate judges to defy that ruling. That prompted Granade in May to issue a second decree that Alabama's ban was unconstitutional. She then put on hold her order for probate judges to issues marriage licenses because of the then-pending U.S. Supreme Court decision.
Moore had argued only the U.S. Supreme Court could override the state's law.
Moore's Response
On Monday, the first business day after the high court ruling, Alabama's Supreme Court issue an order giving probate judges until July 6 to file papers giving their opinions on "the effect of the Supreme Court's decision."
The Alabama Supreme Court order "speaks for itself," Moore said in a statement that day. "In no way does the order instruct probate judges of this state as to whether or not they should comply with the U.S. Supreme Court's ruling."
The fight may live on in Texas, too, as state Attorney General Ken Paxton and U.S. Senator Ted Cruz, a Republican candidate for president, have said their state's religious freedom law protects public officials who decline to issue licenses to gay couples.
The case is Strawser v. Strange, 14-cv-00424, U.S. District Court, Southern District of Alabama (Mobile).
Before it's here, it's on the Bloomberg Terminal.
LEARN MORE