Menendez Donor Melgen Says He Lost $50 Million in Trading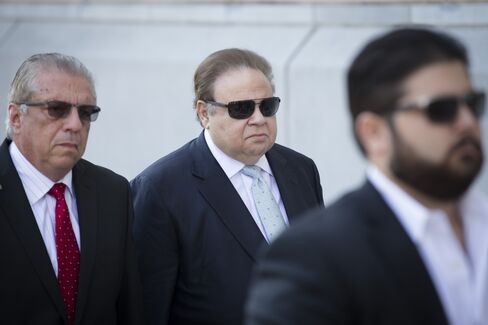 A Florida eye doctor charged with bribing U.S. Senator Robert Menendez told a federal judge that he lost tens of millions of dollars through day trading after the financial crisis in 2008.
"I lost $50 million," Salomon Melgen, 60, said Wednesday in his first testimony since his April 14 arrest on charges that he bilked Medicare out of a "substantial portion" of $105 million in reimbursements. "Everything was wiped out."
Melgen is seeking bail in federal court in West Palm Beach, Florida, after almost 11 weeks in jail. U.S. Magistrate Judge James Hopkins denied his request after his arrest, saying he was a "serious risk" to flee to his native Dominican Republic.
Melgen hired new lawyers who appealed to a higher-ranking district judge. That judge ruled June 5 that Melgen deserves home detention with electronic monitoring and told Hopkins to set financial terms. Hopkins has held several days of hearings on the state of Melgen's finances, and his many bank accounts and properties in the U.S. and the Dominican Republic.
Lawyers in the case said they were close to agreeing to a bail package in which Melgen would post a $3 million corporate surety bond, as well as a personal surety bond. Prosecutors have said they are seeking as much as $15 million on the personal bond, although Melgen's lawyers didn't value the assets in court Wednesday. Hopkins set a hearing for Thursday that could allow Melgen to be released by the weekend.
In the corruption case, U.S. prosecutors separately accused Melgen of lavishing almost $1 million in luxury travel and campaign donations on Menendez, a New Jersey Democrat who sought to help him in personal and business matters. Menendez was indicted with him in that case. Both pleaded not guilty.
If Melgen decided to cooperate with prosecutors, he might help strengthen the U.S. case against Menendez.
Senator's Help
Prosecutors say the senator intervened to help Melgen in a Medicare overbilling claim, in a contract dispute with the Dominican government and with visa applications for three girlfriends. Menendez called the case an attempt to prosecute a 20-year friendship.
At the hearing Wednesday, Assistant U.S. Attorney Carolyn Bell expressed skepticism about whether Melgen accurately disclosed all of his holdings in a financial statement after his arrest.
Melgen, wearing shackles and a blue jail jumpsuit, answered dozens of questions about cash withdrawals by him, his wife, and his son. Melgen said he was unaware initially that his wife and son had withdrawn tens of thousands of dollars in cash. He said he didn't know that a Dominican account had been closed.
Jet, Bodyguards
Melgen testified that he carried thousands of dollars of cash when he went to the Dominican Republic, where he has a villa, to buy fuel for his private jet, party with friends and pay his bodyguards.
Hopkins expressed impatience with Melgen's response to Bell's question on whether he had disclosed all of his accounts.
"Dr. Melgen, you didn't respond to the question," the judge said. "It's a simple question. Are you aware of any of other accounts, yes or no?"
"No," Melgen said.
The judge also interjected questions when Bell asked Melgen about losses in a day trading account handled by someone that lawyers in the case haven't identified.
When Melgen said he lost $50 million, the judge asked if they were gross or net losses. Hopkins pressed the point, using the amount of $70 million.
"I assume it's $70 million in gross losses," the judge said.
"That's accurate," Melgen said.
Bell also questioned Melgen's wife earlier Wednesday about her handling of large sums of cash.
The case is U.S. v. Melgen, 15-cr-80049, U.S. District Court, Southern District of Florida (West Palm Beach). The New Jersey case is U.S. v. Menendez, 15-cr-00155, U.S. District Court, District of New Jersey (Newark).
Before it's here, it's on the Bloomberg Terminal.
LEARN MORE