Here's What to Watch for in Today's Jobs Report
The employment picture is healing, though some weakness remains
It's going to be Payrolls Thursday this time, instead of the usual Payrolls Friday, because July 3 will be a holiday in observance of Independence Day. The Labor Department will release the U.S. jobs report for June at 8:30 a.m. in Washington.
Payrolls rose by 233,000 last month, according to the median forecast of economists surveyed by Bloomberg. Employers added 280,000 workers in May.
The jobless rate, derived from a separate survey of households, fell to 5.4 percent, matching the lowest since 2008, economists projected. Here's what else to watch for in the figures:
Wage gains
Wages will get top billing as they finally show signs of firming, eliminating a remaining weak spot of the job-market rebound, according to economists at Jefferies LLC and Moody's Analytics Inc.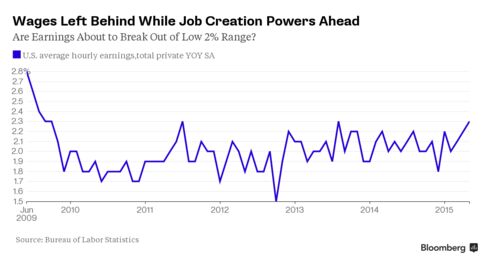 Average hourly earnings probably climbed 2.3 percent in the 12 months ended in June, following a similar gain in May, according to the Bloomberg survey median. They've been stuck in a narrow range, averaging 2 percent since the expansion began. Other wage gauges, such as the quarterly Employment Cost Index and a measure from the Federal Reserve Bank of Atlanta, have shown faster growth.
"The details of the labor-market report are more important at this time than the headline payrolls number," said Tom Simons, an economist at Jefferies in New York. "I'm much more focused on what average hourly earnings are doing. Payrolls are already growing at a very solid clip."
Federal Reserve Chair Janet Yellen reinforced the message at her June 17 press conference: "Although progress clearly has been achieved, room for further improvement remains," she said. She described wage growth as "relatively subdued."
U-6, long-term unemployment
Economists will be looking for other signs of job-market slack, or the extent to which the pool of labor is being underutilized. The number of part-time workers who would prefer full-time jobs was one such indicator Yellen cited last month.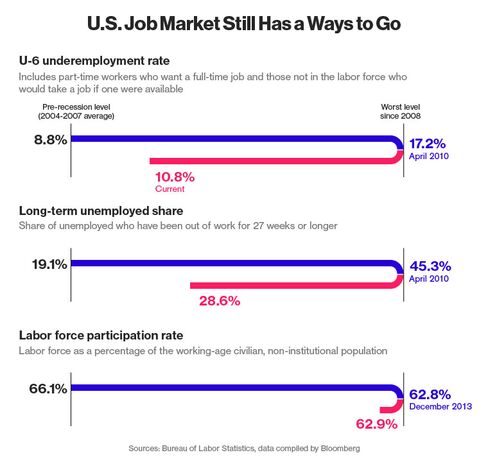 The U-6 rate of underemployment, which includes part-time workers who prefer a full week of work and discouraged Americans who aren't actively searching for a job, was 10.8 percent in May.
Long-term jobless workers' share of the unemployed also isn't yet back to pre-recession levels. This and other measures signal it may take time to absorb the excess supply of labor. Some of it may be linked to a skills mismatch, said Joshua Shapiro, chief U.S. economist at Maria Fiorini Ramirez Inc.
"There are plenty of warm bodies out there looking for work," said New York-based Shapiro. Employers say "they're not necessarily the right warm bodies.''
Payrolls
The projected increase in June payrolls would lift the monthly average for 2015, which is so far running at 217,000 following weather-related weakness earlier in the year. That compares with 229,000 in the first five months of 2014 and about 260,000 for all of last year.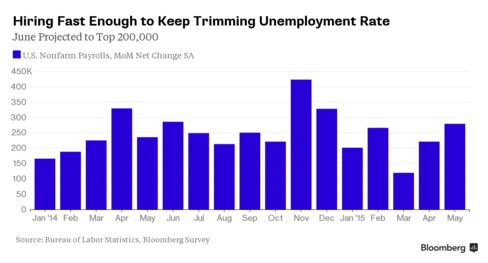 Oil impact
Economists will scour the jobs report for signs of relief from the hit due to the plunge in oil prices. Harm Bandholz, chief U.S. economist at UniCredit Group in New York, said he'll have his eye on mining employment, with the Baker Hughes rig count having shown its first increase of the year in late June.
"Mining employment has subtracted 14-, 15,000 a month — it's not huge, but I wonder if we already saw a stabilization in June'' for the industry's payrolls, even if the seasonals aren't favorable, Bandholz said.
Participation rate
Economists will also be watching the participation rate, which indicates the share of working-age people in the labor force. After peaking at 67.3 percent in 2000, it fell to a more than three-decade low of 62.7 percent in late 2014 and has since been hovering close to that share.
"We're going to see healthier growth in the participation rate, but not every month,'' said Ryan Sweet, a senior economist at Moody's in West Chester, Pennsylvania. "Wage growth will do wonders in bringing people back into the labor force.''
A rise in the jobless rate — if it was caused by more people coming back into the labor force as job prospects improved — would be considered a positive development. On the flip side, it's hardly cause for celebration when the unemployment rate falls because more Americans dropped out of the labor force.
Calendar bias
June is the only month of the year in which payrolls tend to be revised down in subsequent readings as more information becomes available, according to Lou Crandall, chief economist at Wrightson ICAP LLC in Jersey City, New Jersey. The employment count is reduced by 25,000 on average over the next two months, according to his calculations, so keep that in mind when you see Thursday's headline. Crandall has a higher-than-consensus 260,000 estimate for June payrolls.
The calendar will also probably play tricks on worker pay, said Crandall. When the 12th of a month, which is the week the government surveys employers, falls on a Friday or Saturday, the wage readings tend to be depressed, he said. So don't be shocked if average hourly earnings grew only 0.1 percent, or even less, last month.
For more, read this QuickTake: Monthly U.S. Jobs Report

Before it's here, it's on the Bloomberg Terminal.
LEARN MORE