The Long Center for the Performing Arts in Austin has at times lit its distinctive ring-shaped facade to celebrate the Fourth of July or raise awareness for breast cancer. Putting a rainbow glow on the building on the night of the Supreme Court decision legalizing same-sex marriage was far more difficult. The news came as a surprise, and three staffers scrambled throughout the day to replace gels and redirect the light fixtures.
"This was something that needed to be recognized and celebrated," says Jamie Grant, president of the nonprofit arts center. "We had no idea if we would be the only building in the country. When I saw on the news that the White House had done it, I said: They copied us!"

Grant, of course, wasn't the only one who felt that way. As millions of Facebook users were superimposing rainbows over their profile photos last week, buildings likewise became canvases for a meme celebrating the arrival of gay marriage across the country. Among the rainbow-colored edifices chronicled on social media over the weekend: California's capitol building in Sacramento, a ferris wheel in Seattle, the San Francisco International Airport, and indeed, the White House.
All those technicolored facades weren't the result of a coordinated campaign.The multitude of rainbows came about because technology adopted over the past decade make it possible for quick, cheap, and colorful changes in lighting. The Long Center's labor-intensive approach is actually something of an outlier. The process of lighting the Denver City and County building in a rainbow palette was a matter of a simple phone call, says Mike Strott, communications manager for Mayor Michael Hancock's office. The city lights the building regularly to promote civic causes and special events, such as opening day for the Colorado Rockies baseball team. "We like to light our building to celebrate," says Strott.
Building managers who want their bright lights to be nimble often install strips of light-emitting diodes, or LEDs, with red, green, and blue hues that can be individually dimmed and brightened to create a virtually limitless1 palette. The technology was introduced about 15 years ago, and adoption has picked up in the past five years as prices dropped and the systems became easier to use.
Controlling the lights can be as easy as selecting preprogrammed motifs included in a software package or pointing a cursor at a color wheel. "It used to be time-consuming and tedious, so people didn't do it very often," says Jim Anderson, a manager for professional lighting systems at Philips. "Now you can control the fixtures individually and create all kinds of colors and patterns." He calls these systems "dynamic color changing luminaires."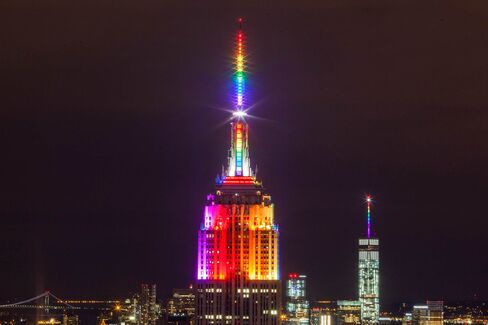 Members of the rainbow building brigade can be divided into those who acted spontaneously and those whose statements were preplanned. The Empire State Building, for instance, already had New York's gay pride week on its jam-packed lighting calendar. In St. Louis, too, lighting municipal buildings to celebrate gay pride is an annual affair. Niagara Falls falls into its own special category: It shines rainbow lights on a nightly basis—not, presumably, to support gay rights but because gawking tourists enjoy a good rainbow waterfall. Nightly light shows at public spaces both monumental and mundane will become even more widespread as building managers replace older lighting systems with energy efficient LEDs.
Buildings, meanwhile, offer a clear advantage over digital media for transmitting memes. The countless Facebook users who laid rainbows over their profiles will have to decide when to revert to traditional photos and whether doing so somehow indicates decreased devotion to a favored cause. Turning off the lights happens on a regular schedule, sometime before daybreak.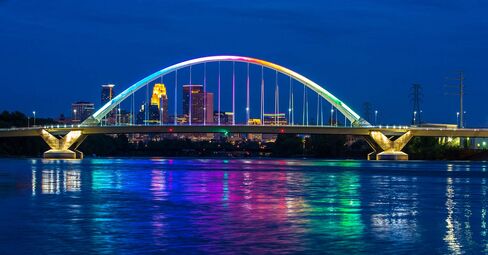 Before it's here, it's on the Bloomberg Terminal.
LEARN MORE