Here's One Fix From the Obama Administration to Make Life Cheaper
Fixing stringent licensing requirements could boost labor-force participation and help lower prices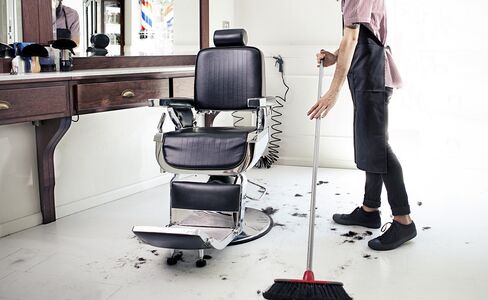 You probably want the surgeon operating on you or the electrician doing the wiring in your house to have some kind of a professional license, showing they've been trained in what they're doing. But how about an auctioneer or a taxi driver? Many customers feel comfortable using Uber to get from place to place, even though the company doesn't require its drivers in cities other than New York to have taxi credentials.
While looking for ways to increase labor force participation, the U.S. Treasury noticed that the fraction of workers who are licensed has risen to more than 25 percent from 5 percent in the 1950s. For health-care practitioners, it exceeds 80 percent.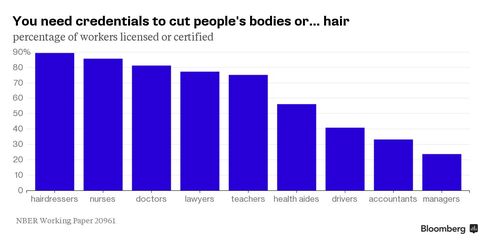 Credentials are usually issued to safeguard the health and safety of consumers and to ensure that a product or service is of high enough quality.
It's a good protection mechanism, but "there is a view out there that licensing imposes unnecessary requirements, which make it basically harder for new workers to enter the field," Karen Dynan, the Treasury's chief economist, said at a luncheon in Washington last week. That can depress the availability of a good or service, thereby raising prices and hurting consumers.
States control who gets a license and how. As the map below shows, places such as Iowa, Nevada, or Washington require about a third of their workforces to have some sort of credentials. In South Carolina, on the other hand, only an eighth of the workforce needs to get a license.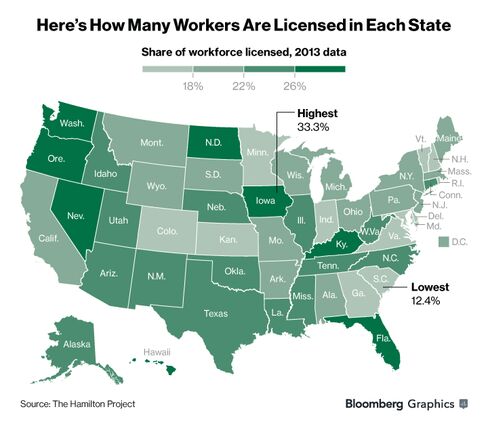 The differences across the states can to a large extent be linked to the mix of industries. Iowa, for example, has many insurance workers, while in Nevada, employment in gambling is relatively high. Both industries are heavily licensed, says Morris Kleiner, a professor at the Humphrey School of Public Affairs at the University of Minnesota.
States differ in their requirements, and because licenses aren't portable across state lines, workers can be prevented from moving to regions that are growing, said Dynan, who previously worked for the Federal Reserve and the Council of Economic Advisers. Meanwhile, more stringent requirements also may lead to fewer people working in licensed occupations, which creates a lower supply of the services or products they provide and therefore boosts prices.
Economic studies have revealed far more cases in which occupational licensing has hurt employment and raised the prices and wages of licensed workers than where it has improved the quality and safety of service, according to Kleiner.
Nevertheless, licensing requirements continue to mount.
"During the 2012-13 legislative sessions, at least seven occupations were newly licensed in at least one state, ranging from scrap-metal recyclers in Louisiana to body artists in the District of Columbia," Kleiner said in a paper earlier this year.
The Treasury wants to fix this. Besides conducting research into areas of reform that would be most constructive, officials are discussing solutions with state governments and certain industries that would help reduce unnecessary training and high fees and harmonize licenses across states.

Before it's here, it's on the Bloomberg Terminal.
LEARN MORE