Greece PM Tsipras Makes Move to End Bailout Deadlock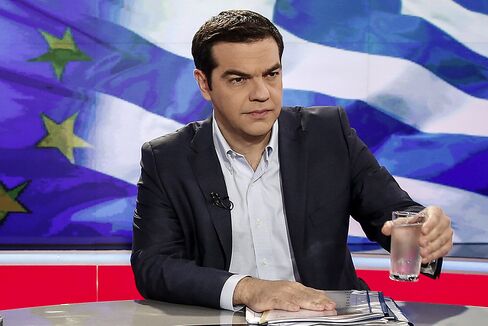 Greek Prime Minister Alexis Tsipras accepted creditors' proposals as a basis for compromise to end a standoff over its bailout.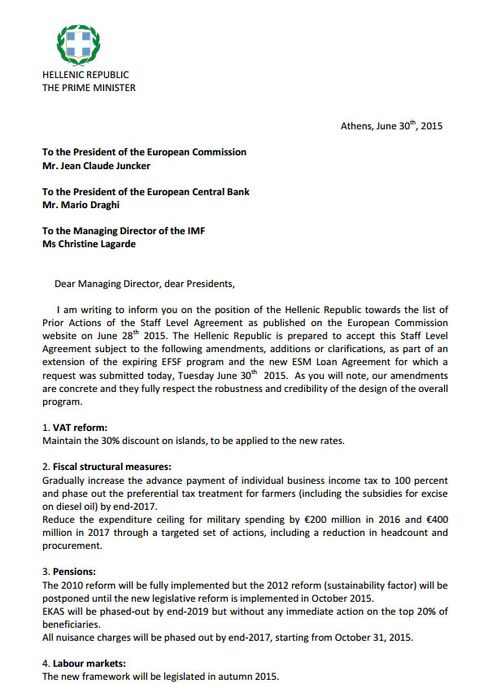 In a letter to European Commission President Jean Claude Juncker, European Central Bank President Mario Draghi and International Monetary Fund Managing Director Christine Lagarde, Tsipras signaled sticking points remain on pensions and tax discounts to Greek islands.
The appeal suggests Tsipras is yielding as his country buckles under capital controls. Greece missed a payment to the IMF on Tuesday and is headed for a July 5 referendum called by the premier on austerity as a condition for aid. Today, euro area finance ministers will weigh the bid from Tsipras, while ECB policy makers will discuss whether to maintain their emergency lifeline.
"The clock cannot be simply set back to where it was Friday night before Tsipras broke off the talks and called the referendum," Holger Schmieding, an analyst at Berenberg Bank wrote to clients. "A deal is still possible, but it would require more than just this letter."
The Euro Stoxx 50 Index rallied 1.9 percent at 11:13 a.m. in London and the euro pared losses after the Financial Times reported the letter to Greece's creditors.
Greece has provided "no basis for talking about any serious measures" to break the deadlock, German Finance Minister Wolfgang Schaeuble said on Wednesday. "From a legal and a real-world point of view, we can't just move forward based on the status quo. We're in a completely new situation" now that Greece's second aid program has expired, he said.
Read this next:
Before it's here, it's on the Bloomberg Terminal.
LEARN MORE