Tsipras Tells Voters Rejecting Austerity Will Yield Better Deal
Greek Prime Minister Alexis Tsipras called on voters to reject austerity measures in Sunday's referendum, hardening a standoff with creditors hours after making a renewed bid for aid as the nation sinks deeper into financial misery.
On a third day of capital controls rationing pensions that also marked the expiry of Greece's bailout, the government in Athens said it was willing to accept the latest offer from creditors as a basis for compromise. The looming vote remains a stumbling block, along with disagreements over pensions, spending and taxes, and Tsipras was defiant on the outcome.
"Come Monday, the Greek government will be at the negotiating table after the referendum, with better terms for the Greek people," Tsipras said in a Twitter message posted as he spoke on national television. "A popular verdict is much stronger than the will of a government."
The Greek premier spoke following a rhetorical exchange with his chief antagonists over a bid to revive negotiations. While Tsipras signaled he's prepared to compromise on the starting point for talks, German Chancellor Angela Merkel, Europe's dominant leader, refused to engage.
Merkel and her finance minister, Wolfgang Schaeuble, burned by five months of brinkmanship, said there would be no talks on a new bailout until after the July 5 vote.
Merkel Refusal
"There can be no negotiations for a new credit program before the referendum," the chancellor told lawmakers in a speech opening a parliamentary debate on Greece. The country has provided "no basis for talking about any serious measures" to break the deadlock, Schaeuble told reporters.
European stocks and bonds rallied on signs of thawing. The Stoxx Europe 600 index was up 1.5 percent at 5:18 p.m. London time. Yields on debt from Italy, Spain and Portugal all fell and the euro weakened 0.6 percent to below $1.108.
Talks broke down at the weekend with Tsipras taking European leaders and his own country by surprise and declaring he would hold a public vote. As the politics and posturing continued, the difference now is that Greeks are divided between defiance and desperation as cash machines run dry and the economy begins to buckle.
"The clock cannot be simply set back to where it was Friday night before Tsipras broke off the talks and called the referendum," Holger Schmieding, an analyst at Berenberg Bank, wrote to clients. "A deal is still possible, but it would require more than just this letter."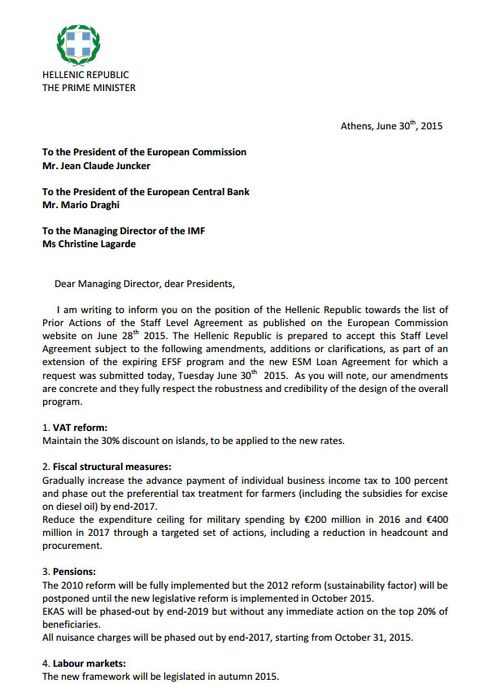 Tsipras Letter
In the letter to European Commission President Jean Claude Juncker, European Central Bank President Mario Draghi and International Monetary Fund Managing Director Christine Lagarde, Tsipras resisted their demands on pensions and tax discounts to Greek islands.
He proposed delaying implementation of the zero-deficit clause for the country's retirement funds and other pension reforms until October instead of July and maintaining a 30 percent discount on sales tax for islands. He also wants to proceed with planned changes to collective-bargaining rules that the creditors oppose.
They have insisted on pension reforms that would bring savings of as much as 1 percent of gross domestic product by 2016 and immediate steps to eliminate early retirement benefits and allowances for lower pensions.
EU Doubts
The creditor institutions still view the July 5 referendum as a potential barrier to agreement, according to a European Union official. Other officials have said Tsipras needs to call for a "yes" vote or cancel the plebiscite altogether to regain euro-area support.
If Greece votes "yes," it might be able to win approval for a third bailout package in the next few weeks. If there were a deal in principle, it's possible Greece could get quick disbursement of 3.3 billion euros ($3.7 billion) from central-bank profits on bond purchases -- money that was set aside for the second bailout and then taken off the table on June 30.
If voters say "no," the pressure on its banking system would ratchet up quickly, leaving Greece little choice but to consider printing its own money. That's because Greek banks would be unable to meet ECB demands for the collateral needed to keep access to emergency liquidity, and the government would run out of cash to pay its bills and pay its workers.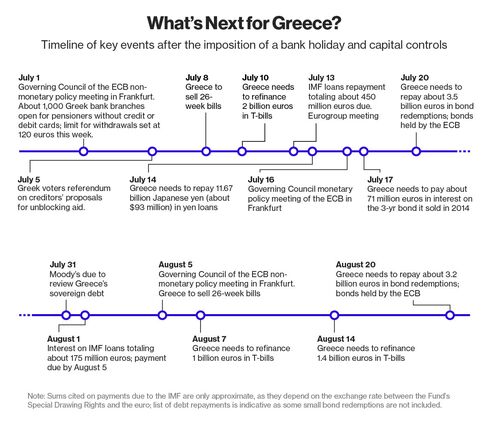 Read this next:
Before it's here, it's on the Bloomberg Terminal.
LEARN MORE