Gold Unruffled by Greece as Trading Range Enters Fourth Month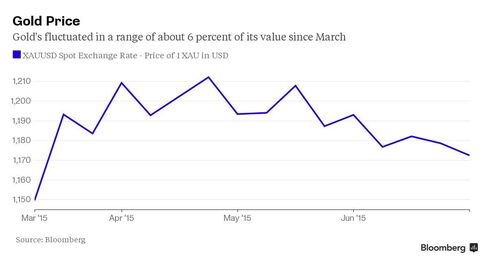 As global markets convulsed this week over Greece's possible exit from the euro, gold kept doing what it's done for most of the year: not much.
The metal is little changed this week and volatility dropped to a seven-month low as demand for a haven from Europe's political turmoil was balanced by a stronger dollar. Private reports on Wednesday added to signs of an improving U.S. economy, curbing demand for bullion as a haven asset.
While gold is a traditional store of value amid crises, trading has been subdued even as Greece missed a deadline to repay the International Monetary Fund and creditors rebuffed last-ditch funding proposals. The Greek government said it was willing to accept the latest offer from creditors as the basis for talks on a new deal, while German Chancellor Angela Merkel ruled out such discussions until after a July 5 referendum.
"The volatility in gold is almost anemic here," James Cordier, the founder of Optionsellers.com in Tampa, Florida, said in a telephone interview. Investors expect that Greece will "stay in the euro," Cordier said. "A whole large group of traders right now are thinking the U.S. economy is slowly improving."
Gold futures for August delivery lost 0.2 percent to settle at $1,169.30 an ounce at 1:51 p.m. on the Comex in New York.
The metal's 60-day volatility touched the lowest since November on Wednesday, and aggregate trading was 34 percent below the 100-day average for this time, according to data compiled by Bloomberg. Prices have been stuck in a 6 percent, or $70, trading range since March.
Gold capped a fourth straight quarterly decline on Tuesday, the longest slump since June 1997, as the Federal Reserve moved closer to raising interest rates for the first time in nine years.
Silver futures for September delivery fell less than 0.1 percent to $15.577 an ounce on the Comex, a fifth straight decline.
Palladium futures for September delivery jumped 4.2 percent to $701.20 an ounce on the New York Mercantile Exchange, the biggest increase since Sept. 19, 2013.
Platinum futures for October delivery climbed 0.8 percent to $1,087.80 an ounce.
Before it's here, it's on the Bloomberg Terminal.
LEARN MORE