Credit Suisse Must Be 'Ruthlessly Selective,' Thiam Says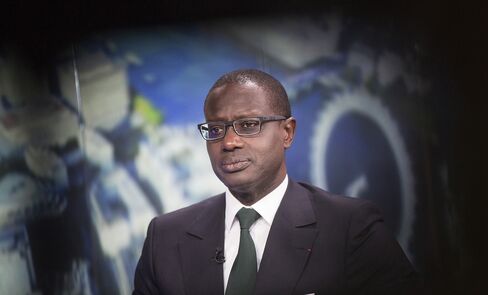 Tidjane Thiam, making his debut as chief executive officer of Credit Suisse Group AG, said he plans to build a strongly capitalized and more nimble business.
In a memo to employees on his first day on the job, the former CEO of Prudential Plc said he would take a few months to understand the organization and operations before setting out his plans for Switzerland's second-biggest bank later this year.
"We must be ruthlessly selective about what we do, and just as importantly, what we don't do," Thiam, 52, said in the memo, which was seen by Bloomberg and confirmed by a spokesman for the bank. "Choosing where we invest our capital and where we don't will be an area of clear focus for me in the coming weeks and months."
Credit Suisse turned to Thiam, to replace Brady Dougan as investors sought a fresh strategy that may see the firm trim the securities unit to focus on wealth management. Thiam, who hasn't led a bank before, will also need to address a capital gap that according to some analysts could be of as much as 13 billion Swiss francs ($13.9 billion).
Credit Suisse shares closed 3 percent higher in Zurich trading Wednesday at 26.46 francs. The bank's shares are up 5.5 percent since the start of the year, lagging UBS Group AG's 19.5-percent advance.
'Strong Balance Sheet'
The bank's "track record on capital allocation and costs has held back the shares materially," analysts at Morgan Stanley led by Huw Van Steenis said in a note earlier Wednesday. "Simply put, Credit Suisse has well over half of its capital allocated to its lowest returning unit – its investment bank."
The new CEO "is likely to drive value through hard-nosed restructuring," the analysts wrote.
Thiam takes over from Dougan a year after the bank paid a U.S. fine of $2.6 billion for helping Americans evade taxes. He told employees he would seeking advice from them on how the bank can be faster and more agile while operating to the highest ethical standards.
"We will need a strong balance sheet that allows us to withstand adversity," he said. "We must have a capital generative business model and be strongly capitalized."
Thiam also appointed Pierre-Olivier Bouee as his chief of staff on Wednesday, a spokesman for the bank said. Bouee was Prudential's chief risk officer until the end of June.
The Frenchman's career has closely followed Thiam's. They both moved to Prudential in 2008 from Aviva Plc where they had worked together for about four years. Bouee started his career in the French Treasury before joining McKinsey & Co. Inc. in 2000, when Thiam was also working for the strategy consulting firm.
Thiam's background in consulting and insurance sets him apart from his predecessor, who rose through the ranks of the investment bank. His experience in Asia, an important growth market for Credit Suisse's wealth management business, may also lead the firm to expand in the region, analysts have said.
Before it's here, it's on the Bloomberg Terminal.
LEARN MORE