Congo Republic President Announces Talks on Next Year's Election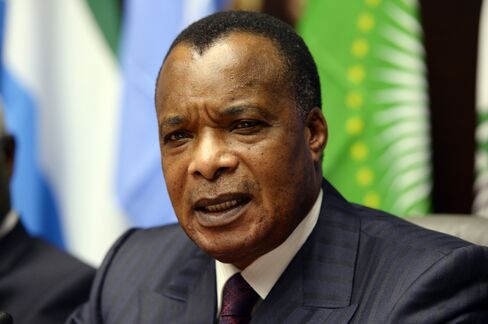 Congo Republic President Denis Sassou Nguesso announced plans for a national dialogue later this month to discuss the country's forthcoming elections.
The talks will take place from July 11 to July 15 and focus on how to organize the vote scheduled for 2016 and changes to the oil-producing central African nation's institutions, Sassou Nguesso said in a statement read on state television in the capital, Brazzaville.
Supporters of Sassou Nguesso, in power for all but five years since 1979, are calling for an overhaul of the constitution to allow the 71-year-old leader to seek re-election. The 2002 charter limits the number of presidential terms to two and stipulates that the age of candidates cannot exceed 70.
An opposition alliance said last month it would take all legal means necessary to prevent a change to the constitution to allow the president to run again.
Before it's here, it's on the Bloomberg Terminal.
LEARN MORE