Factories Making a Comeback as U.S. Domestic Demand Picks Up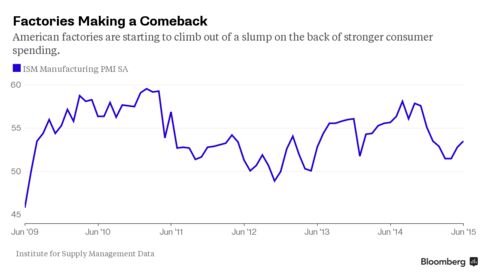 American factories are starting to climb out of a slump on the back of stronger consumer spending.
The Institute for Supply Management said its June factory index increased to 53.5, the best reading in five months, from 52.8 in May. Another report on Wednesday showed construction spending climbed 0.8 percent in May to the highest level since October 2008.
Producers of lumber, furniture and fabricated metals were among the 11 industries growing in June, indicating a rebounding housing market and rising auto sales are rippling through factory floors. That's mitigating the damage of an energy-related retreat in corporate investment and weaker exports due to a stronger dollar.
"The increases in manufacturing are going to be largely driven by an accelerating pace of domestic demand over the next couple of years," said Robert Stein, deputy chief economist at First Trust Portfolios LP in Wheaton, Illinois, who correctly forecast the index. "Housing has supported manufacturing and will continue to do so at an even faster pace."
The gain in May construction outlays reflected a 0.3 percent increase in homebuilding and a 1.1 percent jump in nonresidential projects, according to the Commerce Department. The figures suggest the industry will provide a bigger boost to the economy in the second quarter.
The rebound is spurring demand for workers. Builder payrolls expanded by 19,000 in June, helping boost employment at U.S. companies by the most in six months, a report from ADP Research Institute showed Wednesday.
Employment Gains
The 237,000 increase in overall payrolls at employers excluding government agencies exceeded the median projection in a Bloomberg survey and followed a 203,000 gain a month earlier, according to ADP.
The June jobs report to be issued Thursday by the Labor Department may show private businesses added about 225,000 employees after a 262,000 increase in May, according to the median forecast of economists surveyed by Bloomberg.
Stocks advanced, after equities capped their worst quarter since 2012, as Greece signaled it was ready to compromise for a bailout. The Standard & Poor's 500 Index climbed 0.7 percent to 2,077.42 at the close in New York.
ISM readings above 50 indicate expansion, and last month's figure was in line with the Bloomberg survey median forecast of 53.2.
The data are "very positive, moving in the right direction," Bradley Holcomb, chairman of the ISM Manufacturing Business Survey Committee, said on a conference call with reporters. Earlier in the year, "we had a bit of a soft start and an even softer plateau, but we're on our way back up."
More Orders
The group's measures of new orders and manufacturing employment improved last month to the highest levels this year.
A more cautionary note for America's assembly lines was a drop in orders waiting to be filled, which fell to the lowest level since January. Readings on inventories showed bigger builds at factories, while customers pared stockpiles at a slower rate.
U.S. factories are also battling weaker overseas markets as the ISM's gauge of exports slipped into contractionary territory.
The world's producers are having a rough go of it. Chinese manufacturing was close to stagnation in June, according to the official gauge of purchasing managers.
Overseas Markets
In the U.K., manufacturing growth unexpectedly slowed last month, posting its weakest performance in more than two years as demand in Europe faltered. Markit's euro-region manufacturing index was little changed at 52.5 last month after a May reading of 52.2.
An improvement in demand for U.S. manufactured goods would help create a virtuous cycle of growth, wherein factories boost headcount to help meet orders and consumers, armed with a new paycheck, spend more.
American producers remain cautious. The U.S. is still in a "spotty situation," said Peter Huntsman, chief executive officer at chemical manufacturer Huntsman Corp. Still, "I'm pretty bullish and we continue to see good signs in North America depending on what sector of the economy."
Before it's here, it's on the Bloomberg Terminal.
LEARN MORE