A Women's College Survives Death Only to Lose Half Its Students
Genny Kelley has deep ties to Sweet Briar College, a 114-year-old women's school, famed for its equestrian program and idyllic campus in the foothills of the Blue Ridge Mountains.
Still, Kelley won't be coming back for her junior year. It doesn't matter that alumnae last week saved the financially struggling school from closing down -- or that Kelley, the second generation to attend Sweet Briar, played lacrosse, sang a cappella and belonged to the college comedy club.
Only 250 students, less than half its enrollment in the most recent academic year, are expected to return this fall to Sweet Briar's campus near Lynchburg, Virginia. While administrators are working to increase that number, it illustrates that the school's challenges are just beginning in a tough environment for small women's colleges. Even the most loyal families may not send their children to an ailing institution, especially if they've found places elsewhere.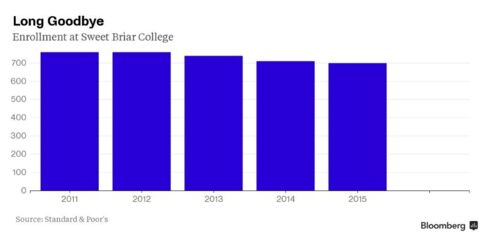 "I'm just afraid that it will close again," said Kelley, who is transferring to Randolph-Macon College in Ashland, Virginia. "They only know they'll be open for a year and I'd rather have the certainty that I will graduate."
Sweet Briar is trying to buck powerful trends. The U.S. has 46 women's colleges, down from 230 a half century ago. At the same time, competition among small, rural liberal arts institutions has grown because of fewer high school graduates and heightened concern about student debt, leading more to close.
Tuition Discounts
Sweet Briar has the capacity to educate 700 students. Its enrollment has been declining, to only 561 last year. To attract students, it discounted its annual tuition -- currently $35,000, plus $12,000 in room and board -- by an average of 60 percent, up from 40 percent five years ago, according to the school. Last year, it reported an operating loss of almost $600,000 on $34.9 million in annual revenue.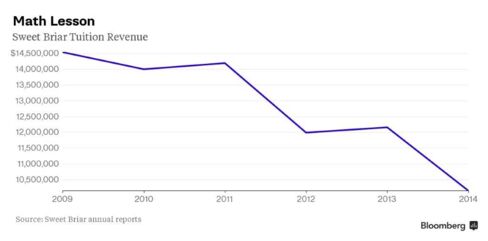 In March, the school's now former administration said Sweet Briar had to close, sparking a backlash from alumnae, faculty and students who mounted a legal challenge. Last week, a Virginia state judge approved a settlement that would keep it open at least one more year.
"The court ruling was a victory but the question now is whether the school is still economically feasible," said Kenneth Rodgers, an analyst at Standard & Poor's, which last month downgraded Sweet Briar's $26 million in debt to CCC, eight steps below investment grade.
New Start
The college now has a new president -- Phillip Stone, former president of nearby Bridgewater College -- as well as a new board of directors and more than $18.5 million in gift pledges.
Saving Sweet Briar, the group that led the effort to reverse the closing, must deliver $12 million over the next two months to help cover this year's operating costs, according to the court settlement. It has already provided $5 million.
Mark Herring, Virginia's attorney general who mediated the dispute, also approved releasing $16 million of restricted funds from the college's endowment, which at last count stood at $85 million.
Though the settlement said Sweet Briar has sufficient funding for another year, the new administration is in it for the long haul, according to Teresa Tomlinson, mayor of Columbus, Georgia, and an incoming board member.
"This college is going to be in existence for another 100 years," said Tomlinson, who graduated from Sweet Briar in 1987.
$120 Million
Tomlinson said she believes the college can raise a minimum of $120 million with a new fundraising campaign and that "every single angle" is being pursued to increase the size of the student body before classes start. Steven Nape, Sweet Briar's former head of enrollment, now a consultant, said the college could survive financially for a year with about 200 students and that the numbers "will begin to grow very quickly."
Leah Haes, a liberal-studies major who will be a senior in the fall, decided to return after she heard the school would guarantee her financial aid, though she is disappointed so many friends will be gone.
"Once they announced it, there was no doubt I was going to go back," Haes said from her home in Ashland, Missouri.
For others, the risk seemed too great.
"I hope the best for Sweet Briar but I feel if I return I don't want to go back to those feelings of what if I can't finish," said Courtney Dwyer, a senior studying biology who will attend Salem College in North Carolina. "I love Sweet Briar College, but I went there to get a college education, and I need to finish."
Adding to the challenge, some in the faculty have found new jobs, such as John Gregory Brown, head of the creative writing program.
"They've got some really capable people coming onto the board and a president who seems up to the challenge," said Brown, who will teach at Deerfield Academy, a private boarding school in Massachusetts. "It doesn't change the environment that exists for women's colleges and rural colleges. It's a tough road ahead."
Before it's here, it's on the Bloomberg Terminal.
LEARN MORE