Williams Sisters Withdraw From Wimbledon Doubles Tournament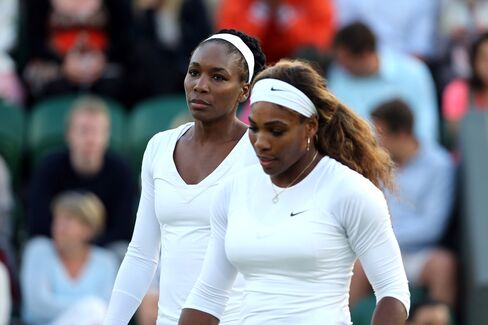 Sisters Serena and Venus Williams withdrew from the Wimbledon women's doubles a year after retiring in the second round as Serena staggered on the court and struggled to hit the ball.
The Americans have won the Wimbledon doubles five times, most recently in 2012, in addition to five singles titles each. The tournament referee didn't give a reason for the withdrawal in an e-mail.
Both sisters advanced to the second round of singles yesterday. No. 1 Serena Williams took an hour and 22 minutes to overcome a feisty Margarita Gasparyan of Russia, while Venus dispatched her American opponent Madison Brengle 6-0, 6-0 in 42 minutes. They could meet in the fourth round.
The 2014 exit came two days after Serena Williams lost in the third round of singles, equaling her worst Wimbledon performance. The Williams retired as they trailed 3-0 after five double faults. Since then, Serena's won the U.S., Australian and French Open singles titles.
The Williams had been seeded 12th in doubles. They'll be replaced by lucky losers Misaki Doi of Japan and Stephanie Vogt of Liechtenstein.
Dominika Cibulkova of Slovakia and Anna Karolina Schmiedlova also withdrew from doubles, to be replaced Chin-Wei Chan and Nicole Melichar.
Before it's here, it's on the Bloomberg Terminal.
LEARN MORE