The 10 Most Underrated Law Schools
Ignore Campbell University at your peril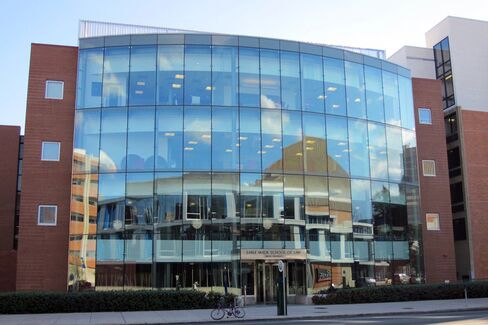 There is a strong chance you have never heard of the Norman Adrian Wiggins School of Law at Campbell University. The Raleigh, N.C., school is not prestigious enough to be ranked among U.S. News and World Report's best law schools, and it enrolls only about 400 students at a time. Yet a new law school ranking suggests that most of us are probably underestimating Campbell.
Alfred Brophy, a law professor at the University of North Carolina, published a paper online on Sunday that grades law schools on just three measures of success. Brophy's simple accounting looks at students' employment outcomes, their median scores on the Law School Admission Test, and the number of citations that a school's law review receives. By distilling the rankings down to these metrics, Brophy says he can get at the essence of a law school's worth: how well it prepares its students for the profession they have chosen.
"What this ranking does is reveal how careful students need to be, especially in looking at employment outcomes," says Brophy. "The job market is so incredibly competitive coming out of law school, you want to make sure you are going to the best school and getting the best value for your money."
While it's worth checking out Brophy's entire list, you can find below the 10 schools that are most underrated. These schools jumped the most in Brophy's rankings, compared to their spot in the U.S. News rankings.
1. Campbell University
Rank based on median LSAT and employment outcomes: 112
U.S. News rank: unranked
2. Drexel University (Kline)
Rank based on LSAT and employment: 87
U.S. News rank: 127
3. University of Montana
Rank based on LSAT and employment: 73
U.S. News rank: 113
4. Mercer University (George)
Rank based on LSAT and employment: 81
U.S. News rank: 118
5. University of South Dakota
Rank based on LSAT and employment: 111
U.S. News rank: 145
6. Albany Law School
Rank based on LSAT and employment: 108
U.S. News rank: 138
7. University of Idaho
Rank based on LSAT and employment: 98
U.S. News rank: 127
8. Louisiana State University (Hebert)
Rank based on LSAT and employment: 65
U.S. News rank: 94
9. Northern Illinois University
Rank based on LSAT and employment: 125
U.S. News rank: unranked
10. Villanova University
Rank based on LSAT and employment: 61
U.S. News rank: 87
Looking at the number of law review citations is one way of getting at a school's prestige, which may or may not matter to a person considering three years of law school. The other two measures are pretty undeniably important markers of a school's worth.
To measure employment outcomes, Brophy looked only at the percentage of 2014 graduates from each school who got permanent jobs that required passing the bar, which is generally best type of job for people coming out of law school. He did not include jobs that law schools funded for their graduates. How well you do on the LSAT, Brophy's third measure, tends to predict how well you will fare during your first year of law school, which might matter to people who want to be surrounded by students who can hack it. "A lot of the experience of law school is interacting with other students," Brophy says.
All told, the ranking looked very similar to the one published by U.S. News in March. Ivy league heavyweights such as Harvard and Columbia topped the list, and a slew of no-name schools sat at the bottom. There were some obvious surprises, though, such as Campbell. The Raleigh school earned a rank of 112, when one looks only at median LSAT scores and job outcomes. Such a modest rank may not seem very impressive, but it stands leagues above the unranked status that U.S. News assigns the school.
What's more, Brophy found that in the middle of the pool—schools ranked from 15 to 150 on his list—there wasn't very much variation in performance.
"The difference between a Toyota Corolla and a Nissan Sentra isn't that great. That's the analogy I would make," says Brophy.
The 112th-ranked Campbell put 60 percent of its graduates in full-time law jobs. Compare that to Emory, ranked 28 by Brophy, where 63 percent of grads landed those types of jobs. Even at Yale law, ranked 12th here, just 70 percent of graduates got permanent legal jobs.
Before it's here, it's on the Bloomberg Terminal.
LEARN MORE