Swiss Franc Storm From Greece Tests Maechler on Day 1 at SNB
The Swiss National Bank's newest board member is about to start work in the eye of a storm.
Beginning Wednesday, Andrea Maechler will take charge of the SNB department that wages currency-market interventions. That's just days after the Greek crisis forced the institution to sell francs to stem renewed upward pressure versus the euro, as SNB President Thomas Jordan revealed later on Monday.
"She's taking office while the hurricane is blowing around the SNB," said Janwillem Acket, chief economist at Julius Baer Group Ltd. in Zurich.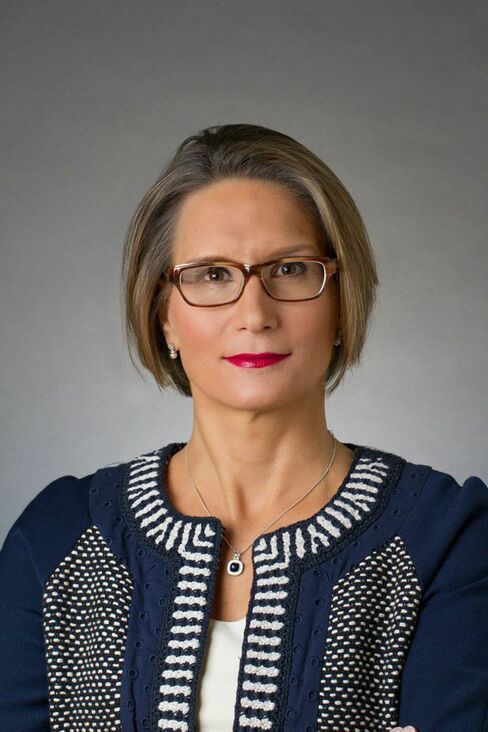 Switzerland, struggling with a strong franc after the SNB abolished its currency cap in January, probably just entered its first recession since the financial crisis. Investors typically seek the Swiss currency at times of market stress, and Monday was no exception: it jumped to its highest level in almost four weeks against the euro.
The franc has appreciated more than 15 percent against the single currency this year, and options trading signals more strength is possible. The premium on six-month options to buy the franc versus the euro over those that give the right to sell was about 3.8 percentage points on Tuesday, the most among 25 peers. The franc traded at 1.04562 per euro at 3:34 p.m. in Zurich on Wednesday, down 0.3 percent from the previous day.
Heavy Intervention
"Really there's not a lot they can do about this," said Gavin Friend, a strategist at National Australia Bank Ltd. in London. "We don't have the external background" for the franc to weaken, he said.
The challenge for Maechler, a former official in the International Monetary Fund's capital markets department, will be to direct an operation that "has to implement quite pragmatic and heavy intervention if necessary," Acket from Julius Baer said.
Also confronting Maechler and her two board colleagues is an array of troubling economic data. The KOF leading indicator fell to the lowest since 2011 last month and economists predict gross domestic product declined 0.2 percent in the three months through June, after dropping that much in the first quarter.
Economic growth will probably be "very weak" in the next quarters, the government said on Wednesday, citing the "strongly overvalued" franc. Even so, a "deep crisis" should be avoided, it said.
"She's completely familiar with what's going on" and a "very tough lady," said Acket. "I don't have any doubts that she'll do a good job."
Before it's here, it's on the Bloomberg Terminal.
LEARN MORE