Nike CEO Is Recommended for Chairman Role in Succession Plan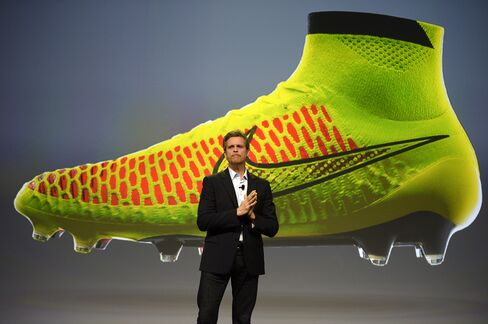 Nike Inc. Chief Executive Officer Mark Parker was tapped to become the sneaker maker's next chairman, part of a succession plan for the day when co-founder Phil Knight steps down from the role.
As part of the preparations, the 77-year-old Knight will transfer ownership of his shares to a limited liability company, according to a statement Tuesday. Nike also is appointing Travis Knight, his 41-year-old son, to the board. The process is expected to lead to a chairman being appointed sometime in 2016.
"For me, Nike has always been more than just a company -- it has been my life's passion," Phil Knight said in the statement. "Over the years, I've spent a great deal of time considering how I might someday evolve my ownership and leadership of Nike in a way that benefits all of our stakeholders."
In unveiling the plan, Knight is trying to secure the future of a company he helped start as Blue Ribbon Sports in 1964. The business grew into the world's largest sporting-goods company, and its trademark Swoosh became one of the most recognized brands on Earth.
Parker, 59, joined the company in 1979 and took over as CEO in January 2006. During his tenure, Nike has thrived by introducing innovative and high-end products, such as Hypervenom soccer cleats that cost more than $200.
Maintaining Direction
That strategy should continue after Knight's departure, said Brian Yarbrough, an analyst at Edward Jones.
"It's kind of sad to see him exiting, but from a business standpoint, I don't think it changes anything," Yarbrough said. "Nike's business has been on fire. Mark's done a phenomenal job."
Knight's new company, called Swoosh LLC, will hold the majority of his Class A Nike shares. The entity will have a governance structure that's "designed to make thoughtful and forward-looking decisions with respect to the ongoing voting and management of those shares," Knight said.
Knight contributed 128.5 million Class A shares to the entity. That stake represents about 15 percent of the total outstanding Class A and Class B stock. Swoosh's board will include Parker, as well as FedEx Corp. Chief Financial Officer Alan Graf Jr. and EBay Inc. CEO John Donahoe.
Before it's here, it's on the Bloomberg Terminal.
LEARN MORE