California Power Surges to 16-Month High as Heat Boosts Demand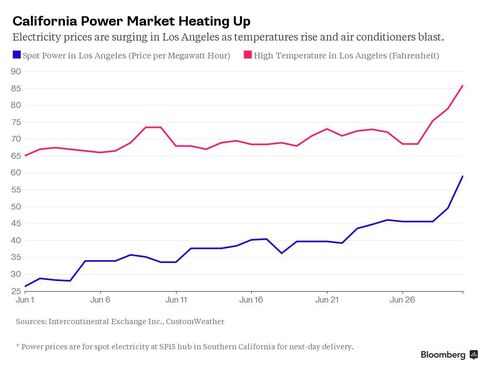 California power prices surged to a 16-month high as sweltering temperatures across the state prompted the grid operator to call on customers to curb energy use.
Unseasonably hot conditions are expected across much of the state, according to WSI Corp., based in Andover, Massachusetts. The high temperature in Los Angeles may reach 99 degrees Fahrenheit (37 Celsius) today, according to the National Weather Service in Oxnard, California.
Power demand on the main state grid is forecast to peak at 44,700 megawatts, according to the California Independent System Operator Corp., 12 percent higher than Monday. This comes as reduced hydro generation is limiting power deliveries from the Pacific Northwest into California, according to grid and Genscape Inc. data.
"We've seen a large reduction over the last few weeks in imports into California," said Ross Fessenden, a power market analyst at Louisville, Kentucky-based Genscape. "With much lower imports and very high load throughout both California and the Pacific Northwest we're seeing energy prices climb in California."
On-peak day-ahead power in Northern California's NP15 hub, which includes deliveries to San Francisco, gained 39 percent, to average $75.73 a megawatt-hour in trading Tuesday on the Intercontinental Exchange, the highest level since February 2014. Day-ahead power in the SP15 hub, serving Los Angeles and San Diego, gained 19 percent, to average $59.18, the highest since September.
Southern California Gas cut supply to power plants in the Los Angeles Basin due to high temperatures, low hydropower supplies and pipeline maintenance limiting capacity, Javier Mendoza, a spokesman for the utility, said by phone on Tuesday.
Lingering Heat
The heat will spread across much of California and the U.S. West keeping overnight low temperatures high.
"A ridge of high pressure will continue to build over the western U.S. resulting in a rapid rise in temperatures today and Wednesday," the weather service said. "Temperatures are expected to peak on Wednesday with inland highs forecast to rise into the 90s with warmest inland locations reaching up to 108 degrees."
The manager of the California grid asked customers to voluntarily trim their energy use on Tuesday and Wednesday.
"Consumers are urged to reduce their energy use during the late afternoon when air conditioners drive consumption to the highest point of the day," the grid operator said in a statement.
Before it's here, it's on the Bloomberg Terminal.
LEARN MORE