Kubotek Chases New Energy Storage to Advance Renewables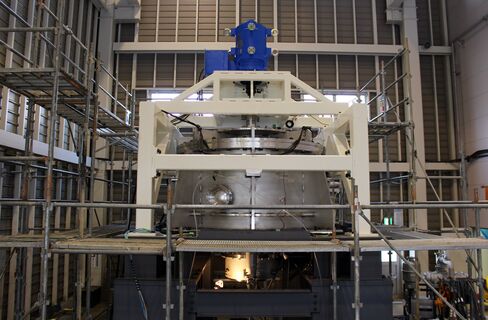 With clean energy supplies growing rapidly, the focus is increasingly turning to ways to integrate new energy into power grids for smooth operations.
Kubotek Corp., a small Osaka-based company, is aiming for part of that market. Kubotek's shares have tripled since Jan. 1, the second-best performer on Japan's Topix.
The focus for Kubotek is an energy storage technology that uses a spinning wheel to control the intermittent flow of solar and wind power. Since April 15 when a group including the company announced it had completed and began test operations of a prototype, Kubotek's shares have surged about 160 percent.
"We want to make flywheel technology commercially viable ahead of global competitors and make it a main business for the company," Shinji Watanabe, a Kubotek senior general manager, said in an interview.
Shares in Kubotek rose as much as 17 percent to 1,013 yen in early trading Wednesday, the biggest gain in two months.
At its simplest, a flywheel stores energy in drums or rotors spinning at high speed. The kinetic energy can be quickly converted into electricity and transferred to and from the grid to absorb sudden surges in supply or demand. Flywheel technology has been tried in everything from Formula One racing cars to train stations.
As solar and wind power generation expands, the technology is being applied to storage systems to balance power grids during short intervals when power input is temporarily cut, such as when clouds block the sun.
Carbon Fiber Design
The prototype flywheel system developed by Kubotek and its partners is one of the largest in the world to use a superconducting magnetic bearing, which allows the wheel to spin with less friction. Railway Technical Research Institute, a Tokyo-based researcher and developer of railway technologies, and Furukawa Electric Co. are also taking part in the project.
The 2-meter diameter rotor from Kubotek used in the prototype flywheel system is one of the largest in the world to use carbon fiber reinforced plastic. The company produced the large-sized flywheel by weaving carbon fiber with a patented technology, according to Watanabe.
Early flywheels, developed in the mid-90s, typically used massive steel disks. Carbon fiber allows for stronger, faster-spinning flywheels, thus maximizing energy density.
Kubotek, founded in 1985, also wants flywheels to be used at railway substations to store energy from braking trains, Watanabe said. The company is targeting sales of about 4 billion yen ($33 million) in four to six years, matching revenue from Kubotek's main business producing inspection systems, according to the official.
On May 15, the company reported net income of 535 million yen for the fiscal year ended in March, compared with a loss of 263 million yen the previous year.
The prototype flywheel will be set up at a 1-megawatt solar power station in Yamanashi prefecture to study how it controls the flow of intermittent solar power. Trial operations are expected to start in July.
Among storage technologies, lithium-ion batteries account for most storage projects excluding pumped hydro, according to a report by Bloomberg New Energy Finance. Flywheels accounted for just 4 percent last year and 5 percent for the first half of this year.
By 2020, the total installed energy storage capacity will reach 11.3 gigawatts worldwide, about nine times the amount in 2013, BNEF said in a June 2014 report. Globally, annual investment will reach $5.1 billion by 2020, more than 17 times higher than in 2013, according to the researcher's forecast.
"There is no such thing as perfect storage technology," said Kei Hosoi, director of the smart community department at New Energy and Industrial Technology Development Organization, known as NEDO.
The trade ministry-affiliated NEDO has been providing two-thirds of the research cost of the project for four years.
"The flywheel is durable," he said in a June 24 interview. "It is responsive. We want to see this group expand applications. The cost won't come down otherwise."
Beacon Power LLC has been operating a 20-megawatt flywheel system in New York since 2011. Mississauga, Ontario-based Temporal Power Ltd. uses an all-steel flywheel in its storage devices.
(An earlier version of this story corrected the share price level in the fifth paragraph.)
Before it's here, it's on the Bloomberg Terminal.
LEARN MORE