Italy Withholds Tax Reward for Banks That Cleaned Up Books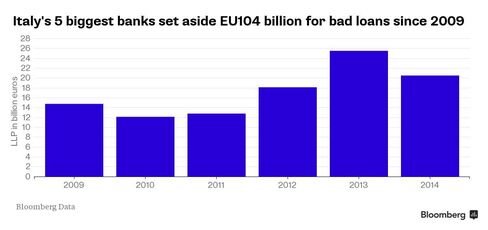 Italian banks that have written off tens of billions of euros in loan losses in the last two years will in the future have to wait longer to claim tax credits from cleaning up their books.
Under a law approved last week by the government of Prime Minister Matteo Renzi, losses already booked but not yet deducted for tax purposes must be spread over 10 years instead of the previous five. For new provisioning, banks can take the deduction in one year.
The law is designed to free up credit for Italy's struggling economy by forcing banks to deal with bad loans that have restrained lending for years. UniCredit SpA and Intesa Sanpaolo SpA are among five banks that set aside about 46 billions of euros for loan losses in 2013 and 2014 under pressure from regulators to shore up their balance sheets.
"The big banks that have already cleaned up their balance sheets will be penalized, while those banks that still have to make substantial provisions will receive a benefit," said Carlo Alberto Carnevale Maffe, professor of business strategy at Milan's Bocconi University. "This is a clear asymmetry of the new law, allowing the government to avoid major impacts on public finances."
Officials at UniCredit and Intesa didn't have an immediate comment.
Big Banks Penalized
As in many countries, banks in Italy can reduce their tax bill by deducting losses from their gross income. Previously they had to spread the benefit over five years for loan losses booked in 2013 and 2014 and over 18 years for those booked prior to 2013.
And whereas before they could deduct 20 percent of losses booked in 2013 and 2014 every year, now they must settle for 5 percent on those losses in the first year. After that, the maximum deduction will gradually increase to reach 12 percent in 2019 before reverting to 5 percent in 2025, the final year.
Losses booked this year will also generate a higher rebate than ones booked in preparation for the European Central Bank's region-wide review of bank assets, which was completed late last year. The new law allows banks to deduct 75 percent of their losses from their gross income and to spread the remaining 25 percent over 10 years.
"I want to see the glass half full, looking at the fact that, starting from now, banks will not create further deferred tax assets," said Alessandro Vandelli chief executive officer at Banca Popolare dell'Emilia Romagna. "For banks having booked massive provisions in last two years, it may have some impact but it will be minimal".
Before it's here, it's on the Bloomberg Terminal.
LEARN MORE