In Mexico's Car Market, Investors No Longer Stuck on Sidelines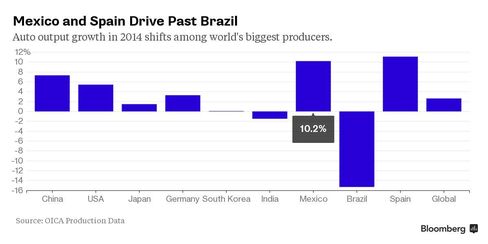 Stock investors seeking to profit from Mexico's auto boom have been mostly out of luck. The nation's next share sale will change that.
Nemak SAB's $736 million initial public offering on Tuesday marks the first IPO of a Mexican auto-parts maker since at least 2000, when Bloomberg began tracking the data. Until now, investors wanting to bet on Mexico's car industry had to buy into global carmakers like Bayerische Motoren Werke AG and Kia Motors Corp. or wager on conglomerates whose auto divisions accounted for a small fraction of their overall revenue.
Mexico's cheap labor, proximity to the U.S. and a growing domestic consumer market fueled a 10 percent surge in Mexican auto output last year, the second-fastest pace among the world's top 10 producers. Globally, auto-part companies with proprietary technology are attracting investors because they can protect profit margins better than carmakers, according to Bloomberg Intelligence.
"Auto parts is a pretty hot space in the IPO market right now," said Josef Schuster, founder of IPO researcher Ipox Schuster LLC in Chicago. "There's going to be pretty solid interest for this type of deal out of Mexico."
Auto-parts companies that went public in the past five years have gained an average of 112 percent since their IPOs, considering offerings of at least $250 million. Of the last two such transactions, Jerusalem-based Mobileye NV is up 114 percent and Saginaw, Michigan-based Nexteer Automotive Group Ltd. has more than tripled.
11.6 Billion Pesos
Nemak, based in San Pedro Garza Garcia, Mexico, plans to raise 11.6 billion pesos (about $750 million) in its share sale after markets close Tuesday in Mexico City, based on the midpoint of the marketed price range of 20 pesos to 23 pesos. The transaction values Nemak, majority owned by Alfa SAB, at 65 billion pesos. Ford Motor Co. owns a 7 percent stake.
Rassini SAB, which manufactures suspension and brake components and has been traded for decades, is the closest thing to a stock-market peer in Mexico. But its market capitalization is about one-sixth that of Nemak, and its 30-day average turnover still ranks in the bottom half of Mexican stocks.
The benchmark IPC index was little changed today at 9:47 a.m. in Mexico Vity.
Conglomerates Grupo Industrial Saltillo SAB and Grupo Kuo SAB also have auto-part divisions, but their stock provides exposure to other industries ranging from cookware to pork.
$22.6 Billion Investments
Mexico is the world's sixth-biggest manufacturer of auto parts, producing $81.5 billion in components in 2014, according to trade group INA. The Mexican government says car manufacturers have invested or promised $22.6 billion for auto and parts factories in the past 2 1/2 years. Autos accounted for about a quarter of Mexican exports last year.
Nemak said in an investors presentation that one in four light vehicles the world over already uses its aluminum engine heads or blocks. The company estimates demand will grow as car companies build lighter-weight vehicles to meet stricter carbon-emissions standards in the U.S., E.U. and Japan.
Aluminum components previously were reserved for luxury and niche cars whose costs could be passed on to consumers. The new standards are pushing automakers like Ford to start using the metal more widely, said Kevin Tynan, a Bloomberg Intelligence analyst.
"If Ford with the best-selling vehicle in the United States -- and a pickup truck no less -- is going to aluminum body panels, eventually that's the way the industry is going to have to move," he said. In that sense, Alfa is "aligned not only with the geographic migration in the industry, but also in the materials migrations."
Before it's here, it's on the Bloomberg Terminal.
LEARN MORE