Sparse Crowds in Hong Kong as Democracy Movement Struggles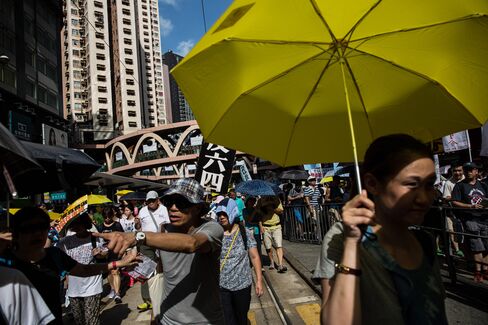 Hong Kong's annual march against Chinese rule attracted a fraction of last year's turnout, as democracy activists struggle to muster supporters after a year of protests failed to wrest political concessions from Beijing.
Aside from summer heat of more than 90 degrees Farenheit (32 Celsius), activists are battling internal divisions, protest fatigue and concern that no rally will convince the Communist Party to let Hong Kong people freely choose the city's leader.
Some who took to the streets Wednesday seemed resigned after last year's 79-day Umbrella Movement failed to bring China to the bargaining table over its plans to vet candidates for the first election of the city's chief executive.
"I don't think it is going to change a thing. It didn't do much in the past and it's unlikely to change anything in the near future," said Danny Tang, 36, a secondary school teacher who attended the march for the fourth straight year, with his wife and five-year-old son. "But I do cherish my right to express my discontent."
The protest comes less than two weeks after pro-democracy legislators blocked a China-backed proposal that would have let an elite committee screen candidates for the leadership election due in 2017. While the result was an embarrassment for the Communist Party, it means the election will be scrapped and the next chief executive will be selected by the same panel that has chosen all three local leaders since the U.K. handed the territory back to Chinese control in 1997.
Yellow Umbrellas
Organizers said 48,000 people attended Wednesday's rally, while a police spokeswoman said 19,650 people were present at the event's peak. Either way, turnout was far below the 100,000 organizers had predicted and the 150,000 who attended last year.
"I'm not discouraged by the smaller numbers," said Connie Wong, 20, who was marching with some fellow university students. "The march used to be one of the only avenues we used to vent our grievances that got attention, but after the Umbrella Movement that's changed."
Protesters held banners calling for Chief Executive Leung Chun-ying to resign and for the city's de-facto constitution to be amended to permit free elections. Some carried the yellow umbrellas that became the symbol of last year's protest movement after they were used by demonstrators to defend against police pepper spray and tear gas.
Democracy advocates are trying to convince Leung to revisit an issue that has already plunged the city into one crisis. Leung and the Communist Party's local representatives say they want to set aside the debate and turn their attention to economic and social issues in the so-called special administrative region.
"We can't carry on spending this kind of effort on just one issue on the government's agenda," Leung told reporters Tuesday. "It is the common wish of the people of Hong Kong, of Hong Kong SAR Government, and the central authorities, that we should move on, that we should focus on other important areas that Hong Kong faces."
Empty Landslide
The battle over election reform has exposed rifts in both of the city's main political camps. Pro-establishment lawmakers criticized each other after a botched walk-out during the June 18 vote resulted in an unexpectedly lopsided 28-8 result against the election plan.
One democratic lawmaker, Ronny Tong, announced his resignation after the vote, citing his desire for a more moderate approach to Beijing. Differences over how best to challenge China contributed to the decision by half of the city's eight universities to leave the Hong Kong Federation of Students, a main organizer of last year's Occupy protests.
The divisions have made it harder for democracy advocates to muster numbers, while others reevaluate whether protests are the best tactic. A June 14 rally attracted about 3,000 people, far fewer than the 50,000 predicted by the organizer, the Civil Human Rights Front.
"After the 79 days of occupation that apparently couldn't change anything, social movement activists have been exploring new, more militant forms of action," said Ho-Fung Hung, an associate professor at Johns Hopkins University who studies Hong Kong and China. "The march will still attract some loyal supporters, but it becomes merely a fundraising event of the mainstream democrats."
For more, read this QuickTake: Hong Kong's Autonomy
Before it's here, it's on the Bloomberg Terminal.
LEARN MORE