Here's What Latin America's Sharp Slowdown Means for the U.S.
The region's economy will grow only 0.1 percent this year, economists forecast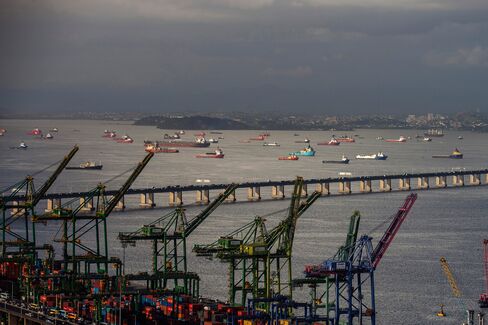 As the world nervously watches the Greek debt talks break down, there's another corner of the planet that's struggling.
Growth in most of Latin America and the Caribbean is coming to a screeching halt, dragged down by Argentina, Brazil and Venezuela. Economists expect the region (excluding Mexico) to expand an almost nonexistent 0.1 percent this year, a forecast that would mean faring worse than the U.S. for a second straight year. It's a reversal of fortunes, as the chart below shows.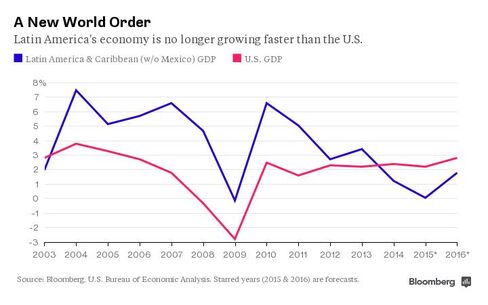 Here's what that means for the U.S.
1. Slumping exports
Slower growth is already depressing U.S. exports of goods to South and Central America: They're down 13 percent in the first four months of 2015 from the same period last year, according to the U.S. Census Bureau. U.S. manufacturers are contending with not only weaker demand down south, but also a strong dollar that makes American imports into Latin America more expensive. The region's five largest economies have seen their currencies lose an average 19 percent against the U.S. dollar over the past year.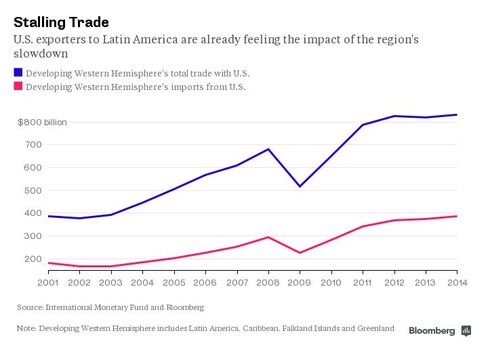 2. Dwindling tourists
The boom years in Latin America and the Caribbean helped boost the disposable income of its residents, and popular U.S. destinations benefited big from a surge in tourists from the region. With the economies stalling there, those same tourist spots are taking a hit. Overnight visitors from Latin America to Miami — and their spending — fell in 2014 for the first time since 2003 , according to the Greater Miami Convention & Visitors Bureau. The decline was driven by a slump in tourists and businessmen from Argentines, Brazilians and Venezuelans.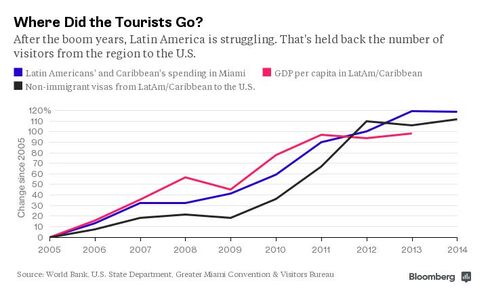 3. But a mending relationship?
It's not all bad news, though. Brazilian President Dilma Rousseff arrived in the U.S. last weekend for her first official visit since she canceled a trip in 2013 amid allegations that the National Security Agency was spying on her communications.
"If you look historically, relationships between the U.S. and Latin America tend to be better when Latin America's economies are not doing as well," said Harold Trinkunas, director of the Latin America Initiative at the Brookings Institution. "All of a sudden, Brazil is friendlier to the U.S. Coincidence? I don't know. The economy's in more trouble, they need a little more help."
Rousseff's Venezuelan counterpart, Nicolas Maduro, has also toned down his anti-imperialist rhetoric as officials from his government have begun meeting with those from the U.S. State Department. (In case you missed it, very few economies in the world are in as deep of a crisis as Venezuela right now.)
Aside from just mending relations, Rousseff and members of her economic team are pitching opportunities to invest in logistics and infrastructure projects worth tens of billions of dollars and discussing possible agreements to increase trade.
Foreign direct investment to Brazil (the amount of money foreigners spend on lasting investments in the country) fell in 2014 for the third straight year. It's expected to drop again, according to the Economic Commission for Latin America and the Caribbean.
— With Catarina Saraiva.


Before it's here, it's on the Bloomberg Terminal.
LEARN MORE