Halyk Bank Seeks to Pay Higher Dividends as Competition Builds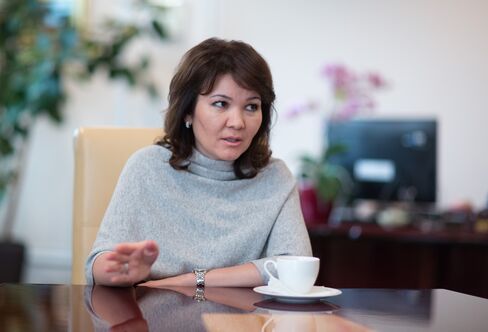 Halyk Savings Bank, the Kazakh lender with the highest profit, is considering larger dividend payments, saying it has no need for excess capital even as local competition builds.
"This year we could have paid a higher dividend, say 50 percent of profit, but we planned to buy back preferred shares," Chief Executive Officer Umut Shayakhmetova said in an interview last week in Almaty, the country's commercial capital, where the bank is based.
Built out of Kazakhstan's Soviet-era savings bank and now controlled by President Nursultan Nazarbayev's daughter and son-in-law, Halyk has weathered a banking crisis in 2009 and two tenge devaluations in the past seven years. The lender, whose name means "the People's Bank," is spending 27 billion tenge ($145 million) this month to buy all its preferred shares, while forecasting profit of 100 billion tenge in 2015 compared with 114 billion tenge last year.
"If the current conditions hold, we hope profit will be higher," Shayakhmetova said, reiterating the previous forecast even as earnings beat targets so far this year. "We don't need excessive capital."
Halyk will consider raising its payout if profit remains at the same level or climbs next year, she said. The lender is buying up its preferred stock to save on the mandatory dividend payouts to simplify its capital structure, according to Shayakhmetova.
Banking 'Exception'
The bank is an "exception" among Kazakh lenders, whose "capital buffers are relatively thin," Fitch Ratings said in a report June 1 on the country's banking sector. Non-performing loans, including overdue accrued interest, were stable at 26 percent of total loans in the first quarter, as banks exhausted their reserves for non-taxable write-offs in 2014, Fitch said.
Halyk's 114 billion tenge profit last year compares with 3.7 billion tenge for Kazkommertsbank, the nation's largest lender by assets.
Kazakh economic growth may slow to 2 percent this year, less than half last year's 4.3 percent pace, as oil declines and neighboring Russia enters a recession, the IMF said last month. Flows of cheap Russian goods to Kazakhstan, after the ruble lost almost half its value last year, create pressure to devalue the tenge.
"A strong tenge undermines the competitiveness of Kazakh products," hurting food and metals producers, especially in regions bordering Russia, Kazakhstan's biggest trading partner, Shayakhmetova said.
'Frozen' Business
The uncertainty about a decision on weakening the tenge has "frozen" businesses, which are cutting jobs and spending and aren't borrowing for expansion, Shayakhmetova said.
"The market, the customer base is not growing," Shayakhmetova said. "Accordingly there will be a fight for clients."
While competition from Russian banks in Kazakhstan has dropped, local lenders are growing more aggressive, with Kazkommertsbank's acquisition of BTA and three lenders united under Forte Bank's brand, Shayakhmetova said. "This is a challenge for us."
To fight back, Halyk is focusing on information technology, Shayakhmetova said. "We need to move faster to develop distance channels for sales -- mobile and Internet banking -- to give our clients access from any device."
Halyk Bank plans to boost volumes of transactions and widen the range of products offered through distance channels, such as applying for loans via banking machines, she said, adding that this plan will take from 1 to 2 years to implement.
Before it's here, it's on the Bloomberg Terminal.
LEARN MORE