Sweden's Riksbank Seen Delaying Rate Cut on Greek Turmoil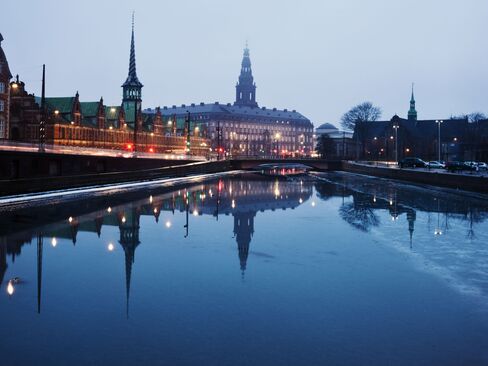 The Swedish central bank is seen waiting until September before it goes deeper into negative-rate territory as turmoil in Greece is adding pressure to ease again.
The bank will on Thursday keep its repo rate at minus 0.25 percent, according to the median estimate of 18 analysts in a Bloomberg survey. Four analysts see a cut to minus 0.4 percent.
The strengthening of the krona is the "wild card" to predictions this week, according to Nordea Bank AB. The central bank is taking unprecedented steps to revive inflation and to avoid a strengthening of the krona against the euro as record stimulus by the European Central Bank jars currency markets. The krona is 2.4 percent stronger against the euro this year and has this week been driven higher by the turmoil stemming from Greece.
"While the strengthening of the krona keeps the door open for a rate cut in July, the most likely outcome is that they will stay on hold" until September, said Torbjoern Isaksson, chief analyst at Nordea. "Rising inflation fuels expectations of a less expansionary policy line."
An unexpected pick up in inflation in May provided some relief to policy makers, who have been battling price growth that has remained below or near zero since the end of 2012. A rate cut is "the most obvious" way to stem currency gains that threaten to halt inflation, according to Isaksson.
Inflation Impulses
The Riksbank kept its repo rate unchanged at minus 0.25 percent in April after two cuts earlier in the year. Policy makers instead stepped up their fight against disinflation by buying another 40 billion kronor ($4.7 billion) to 50 billion kronor in government bonds, adding to the 40 billion kronor in purchases announced since February.
The krona gained as much as 0.5 percent this week amid Greek turmoil. That's not enough to force the Riksbank to cut rates, SEB AB said. It sees as much as a 40 percent chance of a "small rate cut" this week, a probability that would go above 50 percent if the krona strengthens to about 9.00 or 9.10 against the euro.
"If the krona strengthens, the inflation impulses we've seen, of course, risk being damped," Finance Minister Magdalena Andersson said Monday in an interview after a press briefing on the Swedish island of Gotland. "At the same time, during the last crisis the krona weakened, so it could also go in that direction."
Before it's here, it's on the Bloomberg Terminal.
LEARN MORE