Greece's Mounting Default Risk Seen in Inverted Bond Yield Curve
Default risk is at its highest since 2012
(Bloomberg) -- To judge how bleak Greece's financial prospects are without a bailout program, take a look at its government-bond market.
It's showing the highest risk of the nation defaulting on its private debt since 2012, when investors lost 100 billion euros ($112 billion) in the biggest-ever debt restructuring.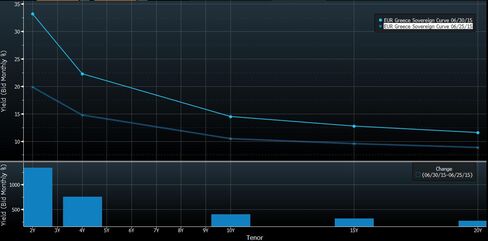 Investors typically accept higher yields on bonds maturing further into the future, judging the risk of owning them to be greater.
In Greece right now, that relationship is inverted. Two-year notes yield 23 percentage points more than the 10-year bonds. That's up from 10 percentage points at the end of last week, before Prime Minister Alexis Tsipras called a referendum on austerity measures demanded by international peers in exchange for more bailout funding.
``What the curve is telling us is that there is a very large risk of a restructuring, of a default in the near term,'' said Gianluca Ziglio, executive director of fixed-income research at Sunrise Brokers LLP in London.
Ziglio cautioned that liquidity in Greek debt is scarce, potentially muddying price signals. On Tuesday, Tradeweb Markets LLC joined the Bank of Greece by halting trading of the bonds on its platform.
While the nation's yield curve has been inverted since mid-December, the situation is deteriorating. The country has shut its banks and stock market and also halted trading of its bonds via the Bank of Greece's electronic trading platform.
The extra yield investors demand to hold the nation's two-year notes instead of 2019 securities -- its most-recently issued bonds -- jumped to 14 percentage points from less than 6 at the end of last week. Greece is saying it will miss a payment of 1.6 billion euros to the International Monetary Fund on Tuesday and is preparing to exit the protection of Europe's bailout regime at midnight.
``It is rather striking the extent of the inversion,'' said Orlando Green, a fixed-income strategist at Credit Agricole SA's corporate and investment banking unit in London. ``The curve remains inverted and this will likely remain the case until investors and the market can be sure that Greek bonds are 100 percent backed by the European Union.''
Before it's here, it's on the Bloomberg Terminal.
LEARN MORE